Local Advertising is Going Digital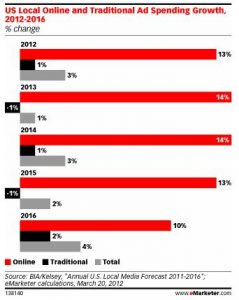 According to research firm BIA/Kelsey, more than one out of every four ad dollars will be spent on digital advertising by 2016.
US companies are expected to spend $136.2 billion on local advertising this year, and that number is expected to rise to $151.3 billion by end of 2016.
Out of that rise in local advertising, traditional is expected to remain flat during the period, with most of the growth coming from digital advertising.
Digital advertising is expected to grow from 16% of total local advertising to more than 25% over the next four years.
Digital advertising is gaining traction and there's never been a better time to get started with a campaign of your own. We are a full-service, digital ad agency that specializes in creating the best campaigns for your business.
If you want to learn more about products like search targeting, retargeting and mobile landing pages, check out our website. Or, contact us for a free consultation.
Schedule a Call