The Big Shift From Traditional to Digital Advertising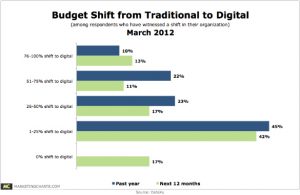 About three-quarters of enterprise decision makers have been shifting their budgets from traditional advertising to digital in the last year. In fact, about one-third of the marketing executives said they shifted more than half of their budget from traditional to digital.
According to a March 2012 report from DataXu, these numbers will continue next year as well, with 4 out of 5 who are shifting to digital saying that they will continue to do so for the next year.
The main reasons for the big switch is increased metastability. With a lot of traditional media, especially print, you can't choose who sees your ads and how they see them. With digital advertising, you can choose how many people you target, what actions you are targeting them through, and you can interact with them directly after they take an action. With print media, you have to hope they respond, but you have no way of knowing if they do.
Are you doing any sort of digital advertising such as search engine marketing, retargeting or banner ads? If not, you need to get started. Internet marketing is here to stay, and can give you the best bang for your buck, while at the same time giving you more control over your campaigns than you ever thought possible.
Contact us for a free consultation.
Schedule a Call