10 Video Advertising Stats Marketers Should Know in 2022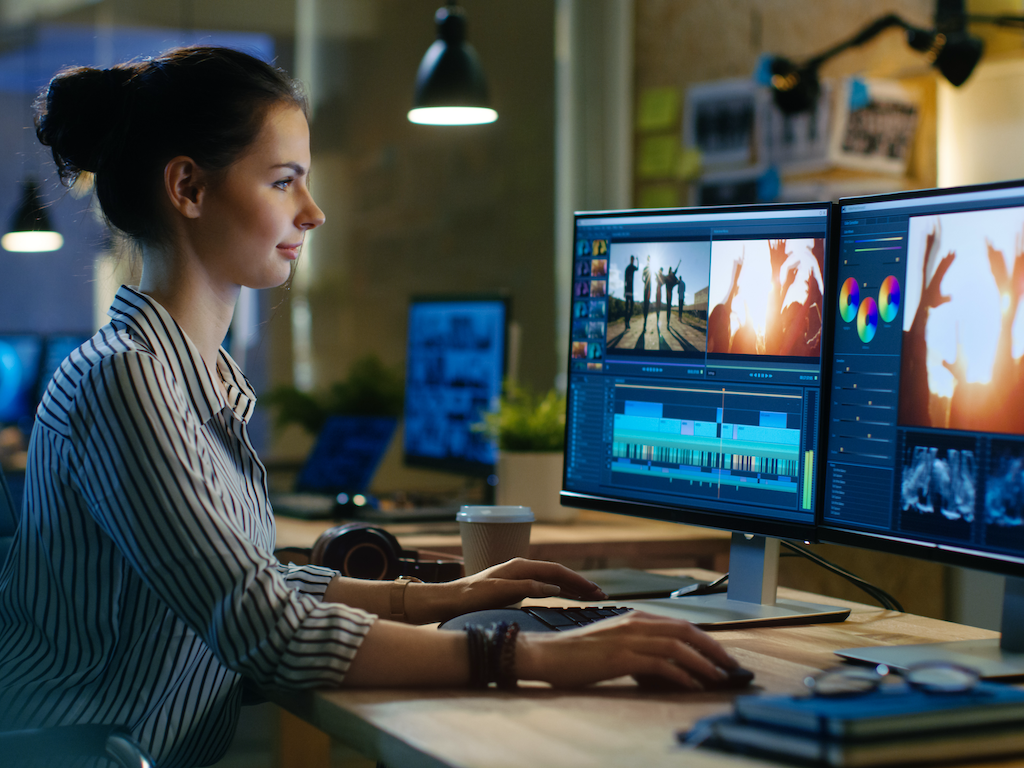 Digital media consumption has grown exponentially over the past few years as more people have spent time indoors and sought entertainment, information, and a connection to the outside world through video. From fast-paced short-form Tik Tok videos to binge-watching a series on streaming platforms, today's marketers have more opportunities than ever before to reach their target audience with memorable video advertisements. To help you stay up-to-date with the biggest trends impacting the video advertising space, we've assembled a list of the ten video trends we think marketers should pay attention to in 2022.
The Trends
1. "In 2022, US advertisers will spend $63 billion on programmatic digital video which is an increase of almost $11 billion over the last year."1
Marketers looking to implement video advertising are turning to programmatic video channels to automate the delivery of ads in this medium. From social video ad platforms to streaming channels, programmatic digital video is one of the fastest growing segments of the marketing industry. Half of all advertisers prefer this medium to invest in above all others.
2. "Mobile represents two-thirds of programmatic video advertising, but its share is declining as connected TV (CTV) attracts more advertising dollars."1
When marketers think about video advertising, social video platforms like YouTube, Instagram, Facebook or Tik Tok come to mind. In recent years advertisers are expanding that view to include TV. Once seen as the old hat form of advertising, the TV advertising industry is experiencing renewed interest with the expansion of Connected TV. This new form of advertising allows marketers to leverage the targeting and tracking of modern digital channels coupled with the brand impact of TV advertising. In 2022, eMarketer anticipates that programmatic CTV ad spend will increase by 39%, on top of an 82% increase already seen in 2021.
3. U.S. households reachable through CTV advertising grew to 86% in Q2 of 2021 compared to 50% in Q4 of 2019.1
Connected TV viewership has risen dramatically over the past two years as consumers have increasingly "cut the cord" with cable. The recent COVID pandemic accelerated the increase; however, the amount of content online has also continued to expand with greater offerings from HBO Max, Apple TV+ and Disney+. The number of mobile devices used for video and CTV consumption has also skyrocketed. As viewership increases, this channel becomes more attractive for advertisers looking to expand their reach and meet viewers across a variety of devices.
4. YouTube is the second most viewed website in the world.2
While the digital video landscape is changing, YouTube remains at the forefront of the digital video industry. In addition to being a source of entertainment, YouTube is also a search engine, powered by the largest search engine, Google.
5. On a monthly basis, more people viewed video on YouTube in 2021 than used Facebook.2 
Facebook is still an amazing platform to reach target audiences; however, YouTube's massive volume of videos attracts just as much attention. YouTube and Facebook are both excellent advertising platforms with enormous reach of greater than 2 billion monthly users each. Unless you have a strong need for a Facebook only feature, consider advertising on both.
6. "42% of videos were watched with the sound off on Facebook in 2021, compared to 35% in 2020. Moreover, two-thirds of brand videos on Facebook were viewed with the sound switched off."3 
Another difference between Facebook and YouTube is the way people watch videos. On Facebook, people are more likely to watch videos with the sound off and this trend is growing. For the marketers running ads on Facebook, this is something to consider when designing video ads. Make sure to use captions and maximize headline and description content to communicate messaging. A significant benefit of YouTube is that people are more likely to watch with the sound on. If you want to add music or a catchy narrator, YouTube is a much better environment.
7. 50% of Instagram users visit a website after seeing it in Stories.4
Stories are an effective way to build brand awareness and develop a connection with a target audience. Known for its hyper-relevant storytelling, Stories offer a way for users to share an inside look into their lives, quick updates, or highly topical content that would lose relevance in a feed. It's also an effective advertising tool for businesses looking to expand their video reach. Owned by Facebook, Instagram Stories ads take advantage of powerful targeting capabilities, increasing the likelihood of the ads reaching a high-intent audience.
8. TikTok was the #1 most downloaded app from 2019 to 2021.5
Originally a music and dance-centric platform, TikTok has transformed into a social media platform tidal-wave. TikTok has skyrocketed in popularity over the past few years with a highly curated and creepily intelligent "for you" feed combined, and its focus on entertaining short-form video. Marketers looking to promote their business on this platform should develop ad content that aligns with the fast-paced, humorous, and creative nature of the channel.
9. YouTube Shorts receive 30 billion views a day.6
In response to the growing popularity of TikTok, YouTube added a new video format to their platform called Shorts. The concept is to easily and quickly create short 15-second videos directly from the YouTube app. This short-form video format has surged in popularity indicating the larger global shift of short-form videos delivered in tailored feeds. Unlike Stories, Shorts don't disappear in 24 hours. The content lives on and continues to be delivered to users in their recommended feeds. This provides content creators with an incentive to invest in creating content in these formats, providing more ad inventory.
10. 43% of TikTok users are between 18 and 24 years old.7
In 2025, TikTok will surpass YouTube for the largest 18-24 video viewership base. While the majority of users are between 18 and 24, the second-largest segment (32%) is between the ages of 25 and 34.
Take a Deeper Dive Into Video Advertising
Conversion Logix uses our national media and advertising experience to keep abreast of the trends that are important for your success.  We host a variety of webinars on topics ranging from YouTube advertising (guest hosted with Google) to innovative Facebook/Instagram ad strategies.  Visit our webinar library to learn more!
Sources
1eMarketer, (2022). US Programmatic Video 2022 Report.
2 Hootsuite, (2022). 23 YouTube Stats That Matter to Marketers in 2022.
3 Conviva, (2022). Conviva's State of Streaming Q4 2021.
4 Sprout Social, (2022). Instagram statistics you need to know for 2022.
5 Forbes, (2021). Top 10 Most Downloaded Apps And Games Of 2021: TikTok, Telegram Big Winners.
6 Search Engine Journal, (2021). YouTube Shorts Hits 30 Billion Views Per Day.
7 Omnicore, (2022). TikTok by the Numbers: Stats, Demographics & Fun Facts.
Schedule a Call