5 Top-Performing Assisted Living Advertising Channels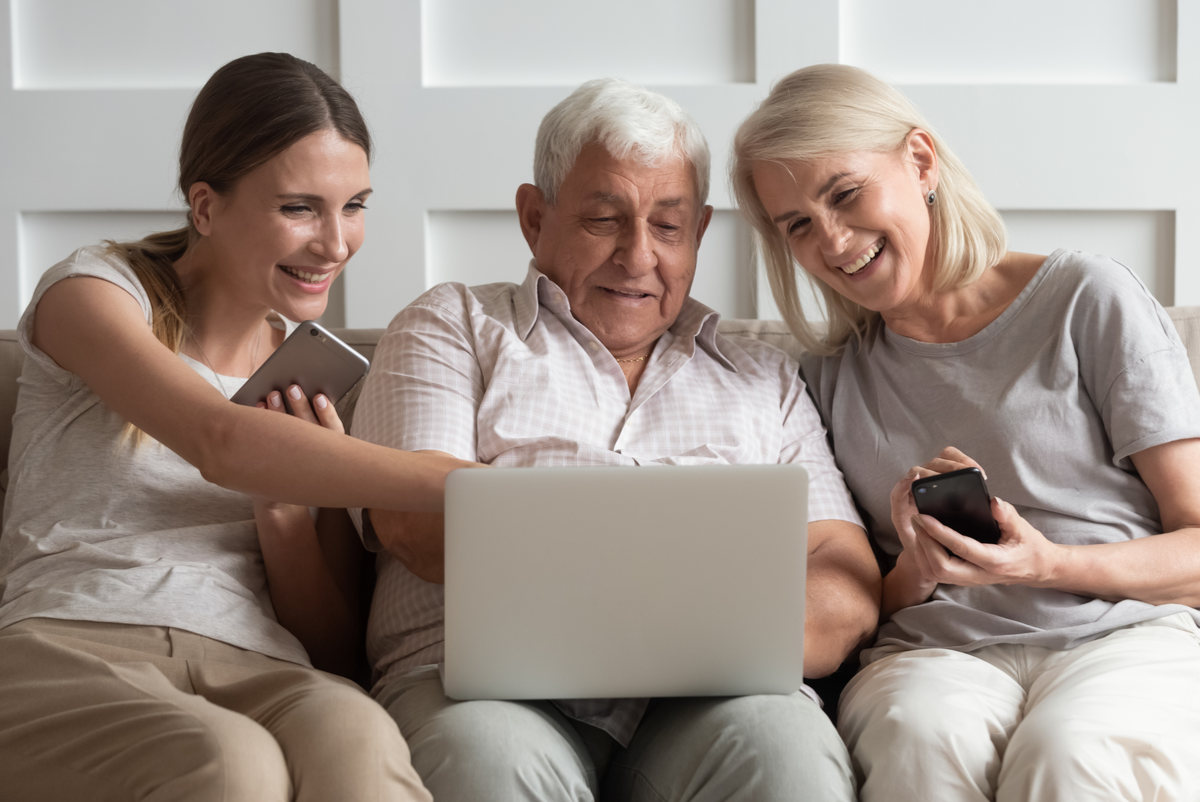 Reaching the right target audience in the assisted living market can be challenging since the decision-makers can be various family members in addition to the senior. This is why strategic targeting plays such an important role in assisted living advertising. Marketers need sophisticated advertising platforms to meet families at the right place and time in their journey. We've partnered with assisted living care communities to increase leads, tours, and move-ins for over a decade. In this time, we've found these five advertising channels to be the most effective for reaching families looking for assisted living care.
1. Google Ads
The best place to reach families looking for senior care online is Google. Nearly 75% of baby boomers use Google to research senior living care information.
When searching for a loved one, baby boomers were more likely to search for skilled nursing or assisted living communities. More specifically, Google's research showed that these searchers were researching care types and medical services offered at communities in addition to how close the nearest hospital was and what the staff-to-resident ratio looked like.
To ensure you reach family members searching for care, we recommend using Google Ads to consistently display at the top of search engine results. This ad placement tends to have the highest click-through rates and lead conversion rates across media channels in the industry.
2. Facebook Ads
69% of U.S. adults use Facebook, making it a great place to reach adult children in the market for senior care. To reach this audience, we use a combination of age and interest targeting to identify those in the senior care search process.
These ads offer a combination of visuals and copy for advertisers to communicate the community's unique selling points while showing what onsite amenities and facilities look like. For assisted living, one of the most successful Facebook ad strategies is to promote service quality since that is a high priority for adult children looking for this care level.
We've used this channel to promote various messages, from resident testimonials to exemplary staff care, virtual touring, and standout amenities.
Regardless of the focus of the ad, it's a good idea to call out assisted living care level messaging in a visible place in either the headlines, description copy, or subheadlines to pre-qualify those in the senior care market based on the type of care they are looking for.
3. Display Ad Networks
Another way to leverage intent-targeting to reach adult children looking for senior care is display advertising. Through display ad networks, senior living communities can target a nationwide audience that is in the market for assisted living with banner ads across thousands of websites.
When running these ad campaigns for our senior living clients, we often lead with an offer in the ad headline since copy space is limited. The goal is to deliver a concise and refined message that entices them to click on the ad or search for the community later on.
4. YouTube Ads
Often overlooked, YouTube offers senior living advertisers the opportunity to engage a highly targeted audience through video. Since YouTube is owned by Google, ads in YouTube leverage the same search data in the Google platform. This allows you to target adult children who have specifically searched for assisted living care in your area.
Since this is both an audio and visual platform, video walkthroughs of what your community looks like and voice-overs can help prospects feel like they are visiting your community in the ad. Make sure to add text overlays in places of the ad to communicate the location of the community and the care levels offered to establish relevance early in the video.
5. Connected TV Ad Networks
With the rise of cord-cutting and the ever-growing usage of TV streaming services, Connected TV advertising is an up-and-coming channel for reaching senior living prospects.
This form of advertising is similar to traditional TV advertising as the ads aren't skippable and take on a short video format, however, they differ in their targeting, engagement, and tracking capabilities.
You can reach prospects across a range of streaming services and popular channels with similar intent-targeting capabilities to what is offered in Display ad networks. Another advantage is that Connected TV users watch TV across their mobile devices, laptops, and smart TVs. These ads are also clickable, unlike traditional TV ads, and can link to your senior living website. If a viewer watches your ad and then searches for it later, this interaction is measured as a post-view action, helping you tie digital marketing capabilities to a TV ad format.
Conclusion
These five top digital advertising channels make it easier than ever before to reach high-intent prospects in the senior living industry. As a full-service marketing technology company, we have years of experience managing hundreds of assisted living advertising campaigns across the U.S. Reach out to us today if you're searching for an experienced provider to elevate your senior living marketing strategy.
Schedule a Call