Ahead of the Curve – GA4: The Next Frontier of Marketing Analytics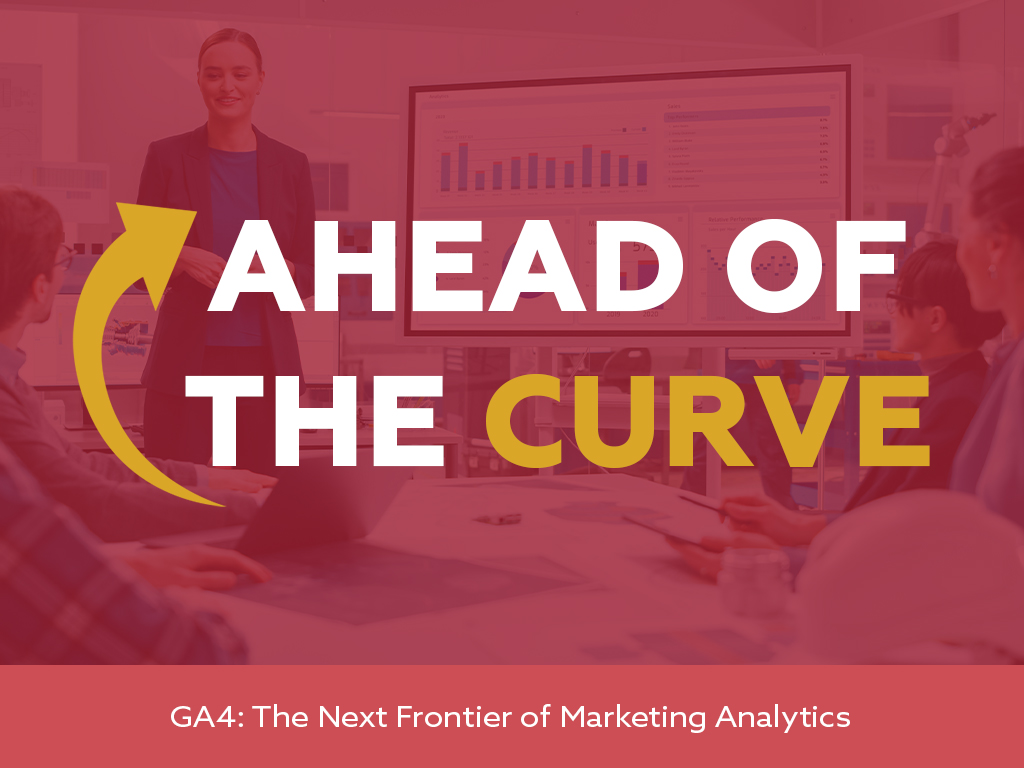 In anticipation of Google's Universal Analytics platform sunsetting, we reached out to our experts at Conversion Logix, VP of Ad Operations Daniel Ekdahl, and our Campaign Performance Manager, Liam Keller, to give you an inside look at how our team is leveraging Google's new analytics platform, GA4.
What industry trends set the stage for Google's introduction of GA4?
Danny: There are a couple of trends that have been prevalent in the industry for a long time that Universal Analytics started to address, but Google has pushed the boundaries further with GA4.
We know internet users are switching devices from their mobile phones to their laptops and now to TVs with the adoption of smart TVs. Marketers have always found multichannel attribution to be challenging. Google is trying to help marketers with this by taking into account how a user encounters a brand across multiple devices while still maintaining privacy.
Liam: To elaborate on Danny's point about privacy, it's an interesting time right now in the marketing world because analytics is becoming privacy-centric, but at the same time, as an industry, we are trying to be more data-driven. We now understand cookies are eventually going away, and machine learning is being explored as a way to close that gap.
A lot of the evolution we are seeing in Google Analytics really centers around those trends, understanding cross-device behavior and improving the way we capture data from mobile devices while giving users the anonymity and privacy they desire.

How is GA4 different from Universal Analytics?
Liam: GA4 is definitely more focused on understanding how people interact on a website. Comparatively, Universal Analytics was focused on understanding traffic volume and less granular methods of collecting user intent, like bounce rate and pages per session. In place of these types of volume metrics, GA4 provides more engagement metrics.
Danny: The biggest paradigm shift is the move from session-based to event-based analytics. Events are the star of GA4. In Universal Analytics, you had the ability to define goals (now called conversions in GA4), but in GA4, Google delineates further between events and conversions. Now advertisers are led to think about what actions are leading to other actions.
Liam: Especially when studying the purchase journeys we analyze for the multifamily housing and senior living industries, we know a user doesn't just teleport to the end conversion [apply to lease an apartment or move a loved one to a senior living community]. There are micro-conversions that happen along the way, and Google is getting better at helping us track these smaller steps.
With these new metrics, what is your team using to evaluate campaigns?
Liam: Engagement rate and conversions are the main two metrics we look at when evaluating campaigns for clients. These action-focused metrics tell us whether prospects are engaging in ways that indicate they are interested in our clients. If these metrics are low for specific campaigns, then I would consider making changes to the campaign or moving the budget towards campaigns driving more engaged traffic.
Can you share an example of how you have used GA4's new metrics or features to optimize campaigns?
Liam: One of the more exciting things we can do in GA4 is set up audiences (segments of users with similar website behavior) and port them into Google Ads campaigns. While audiences were available in Universal Analytics, in GA4, they've become more robust and easier to leverage for campaign optimization. Once added to the Google Ads platform, we can then target the users in these audiences and tailor our bidding strategy. We've tried this by modifying Google Ads bids based on their engagement with floor plan pages. This helped us bring high-intent users back to the client's site, increasing conversions.
Overall, Google is making it easier to optimize campaigns across their platforms with GA4 so advertisers can leverage tools from one platform into another, which is great news for advertisers.
What new insights are available with GA4 that weren't accessible with Universal Analytics?
Liam: Danny eluded earlier to the importance of understanding how users engage across multiple channels and platforms. In GA4, Google is getting better at tracking and reporting on multitouch attribution. We've always known how impactful top-of-the-funnel advertising campaigns like Facebook, TikTok, Instagram, Display, and YouTube are in driving high-converting prospects, but so much of that journey gets lost when we only focus on direct conversions. With GA4's new multitouch reporting, we can now clearly see users taking four or five touches before converting, giving us a better reflection of how marketing actually works. It's not a simple landscape by any means, and it's nice to see the industry make progress toward understanding that.
What should marketers do to prepare for the sunset of Universal Analytics?
Danny: Most importantly, establish a GA4 property as soon as possible. Spend time learning how the new platform works and getting familiar with the new metrics and features to get the most out of the platform.
Google recently announced that they are now giving users a six-month window past the sunset date to extract and store Universal Analytics data. If you have a Universal Analytics account, I suggest looking into the best option for storing that data for your organization.
What can we expect from GA4 in the future?
Danny: The industry has been blaring the cookieless future siren for a while now. Google has been exploring alternatives to cookies. I'd expect more innovation from Google around privacy in the near future.
Liam: Predictive analysis is another area I see Google building upon in the years to come. While machine learning already makes up the backbone of GA4, I expect GA4's predictive features to improve over time as the platform gathers more data. Right now, we can see cool things in GA4 like, "Google Ads was a part of 63% of user journeys for this account". I see insights like these becoming more predictive as more data is collected.
GA4 Resources to Keep You Ahead of the Curve
New to GA4 and ready to learn more about it? Check out our four-part blog training series to help you get started.
Don't miss our exclusive LinkedIn Live, Unlocking the Power of GA4: Best Practices from Google and Conversion Logix! Danny and Liam are teaming up with our agency advisors from Google to give you an inside look into the new GA4 platform.
Sign up for our email newsletter for event updates and future Google Analytics resources.
Schedule a Call