Carousel Ads vs. Single Image Ads on Facebook & Instagram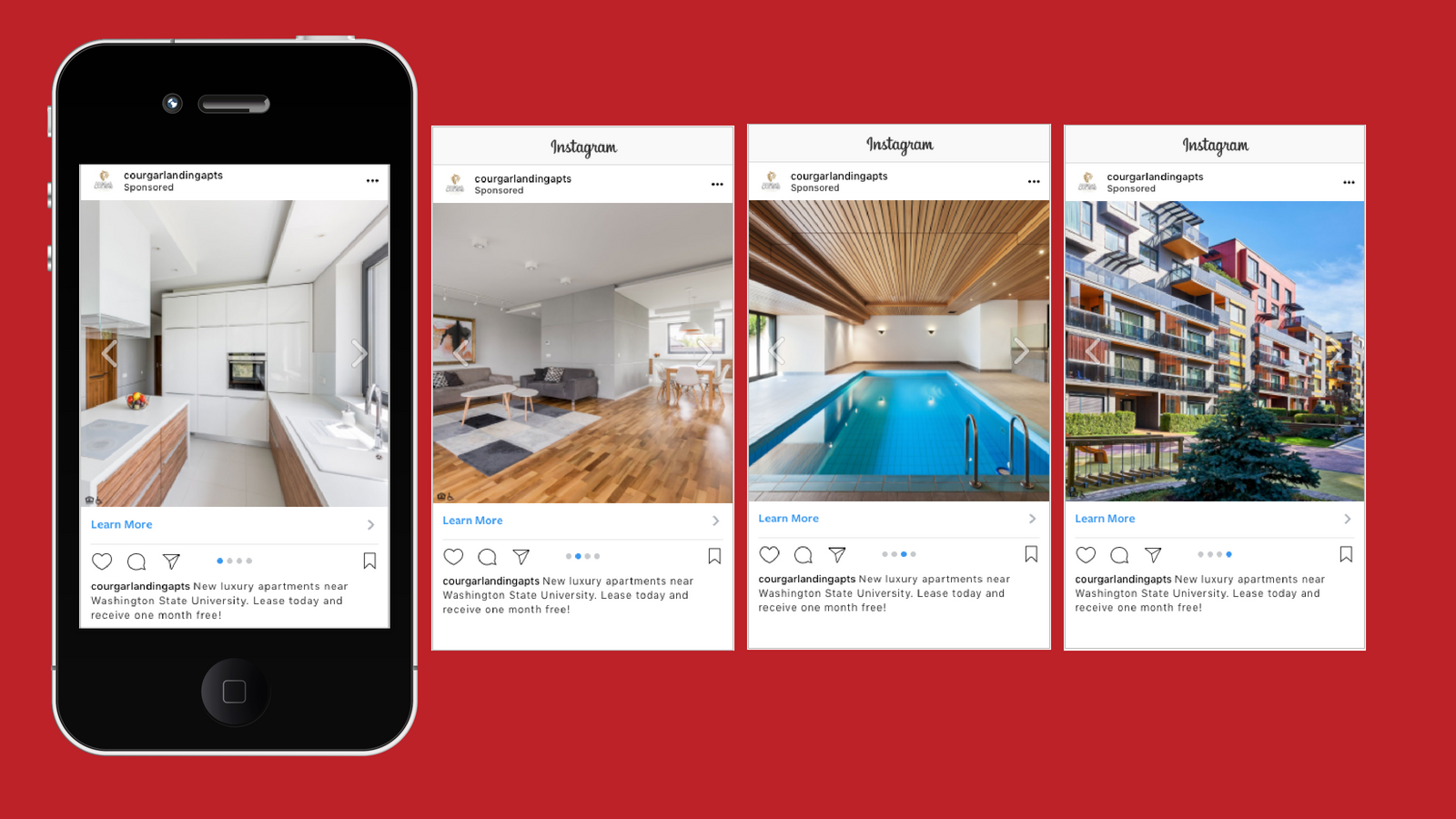 We analyzed the performance of over 200 apartment ads that received at least 1,000 impressions to compare how Carousel and Single Image ads perform in Facebook and Instagram.
If you've browsed Facebook and Instagram over the past few years, you've likely noticed the evolution of advertisements on the platform. Within the apartment industry, image-based and video-based advertisements have become increasingly popular. Many apartments run one of two types of image-based ads that will appear in the feeds section of these two widely-used social media platforms.
The carousel advertisement style allows advertisers to showcase multiple images and headlines, while the single image ad focuses on one powerful image and a prominent headline.
To get an idea of what these two ad formats look like in Facebook and Instagram, take a look at the examples we've provided below.
Facebook Single Image Ad Format:
Facebook Carousel Ad Format:
Instagram Single Image Ad Format:
Instagram Carousel Ad Format:

Carousel vs. Single Image on Facebook
We found that in the Facebook platform, the median click-through rate (CTR) for single image ads is higher than Carousel ads. This indicates that most apartment ads on Facebook utilizing the Single image format are more likely to have a higher CTR than those using the Carousel format. However, this does not discount the effectiveness of the Carousel ads as they had a wider distribution of CTR performance, meaning the top performing Carousel ads have the potential to outperform the top performing Single Image ads.
Carousels can provide a higher ceiling on Facebook but Single image ads perform more consistently.
Why might this be?
Single image ads are more native looking than Carousel ads. In Facebook, most of the ad engagement comes from the ads in the newsfeed. The format of single image ads looks like something someone may share in their newsfeed. When people post multiple images in the Facebook feed organically, they look like photo collages, with images arranged in tiles. Carousels, on the other hand, stand out as an ad, because people don't natively post images using this format in the newsfeed.
Carousel vs. Single Image in Instagram
On Instagram, Carousel ads had a much higher median CTR than Single Image ads. Single image ads were more likely to have click-through rates that varied more from the median, meaning they are more likely to either knock it out of the park or fall below the pack. This is the exact opposite of what we saw with Facebook.
Interestingly, the Carousel format is a native format for how users share organic Instagram content. Carousel ads allow advertisers to showcase more images of their community. Since images are more of a focal point than copy is on Instagram, it makes sense that these ads are more consistently engaged with on this platform.
So, what does this mean for multifamily advertisers?
Regardless of which ad format you use, our research shows that both image ad formats have the potential to do well within these social platforms. The decision to use one or the other comes down to a community's assets, value proposition and the execution of the advertisement.
On Facebook…
Our research indicates that selecting a single image ad is a "safer" bet than a Carousel ad. If you believe you have a limited assortment of quality imagery you may want to use a single image ad. If you have exceptional images, then you should utilize a Carousel, as they are more likely to deliver above-average results.
Pros of Single Image Ad Format
Appears more native in the newsfeed
Provides more emphasis on the copy
The assets presented are the same for every prospect every time
Only requires one great image asset
Leaves them curious as to what the rest of the apartment community looks like
Cons of Single Image Ad Format
The one image may not resonate with everyone
Missed opportunity to showcase multiple images if you have a lot of design features and amenities you want to show off
Pros of Carousel Ad Format
Communicates multiple messages with visuals and headlines
Ads in this format can stand out (in a good way) because they aren't native (if executed well)
The user is presented with an optimized order of carousel cards (you have more chances to present prospects with the right imagery and messaging)
Cons of Carousel Ad Format
It isn't native for organic posts, users may scroll past this content more readily
Can be information overload if too much imagery and messaging is presented
Requires multiple high-quality images to be effective
On Instagram…
If you have a lot you want to communicate about your community, you should use the Carousel format. With limited copy available to communicate your community's value proposition and lifestyle, the Carousel format will give you the opportunity to tell a compelling story. If you have one stand out message and visual that you think captures your community's unique value proposition, try using a Single Image format in Instagram, as it has a greater potential to be a high performer within this platform.
Pros of Single Image Ad Format
Presenting one concise and powerful message can make you memorable
Looks native in the feed
A consistent experience for everyone
Leaves them wanting to see more
Only need one great image asset
Cons of Single Image Ad Format
Missed opportunity to tell a story with imagery
Relies on the copy, a more overlooked element on Instagram
The one image used may not resonate
Pros of Carousel Ad Format
Presenting more images of a community can help tell a story within this highly visual platform
Helps qualify leads
Native to the platform with the way people post organically
This format is more interactive and engaging for users
You have more chances to present an image that resonates
Cons of Carousel Ad Format
Requires multiple high-quality assets
The prospect may not leave with a clear value proposition when presented with too much information
Requires the user to swipe to see the entire ad
Did you like this article? If so, please share it with your colleagues using the social sharing buttons on this page!
Schedule a Call