Conversion Logix® Introduces Ad Automation and Unified Reporting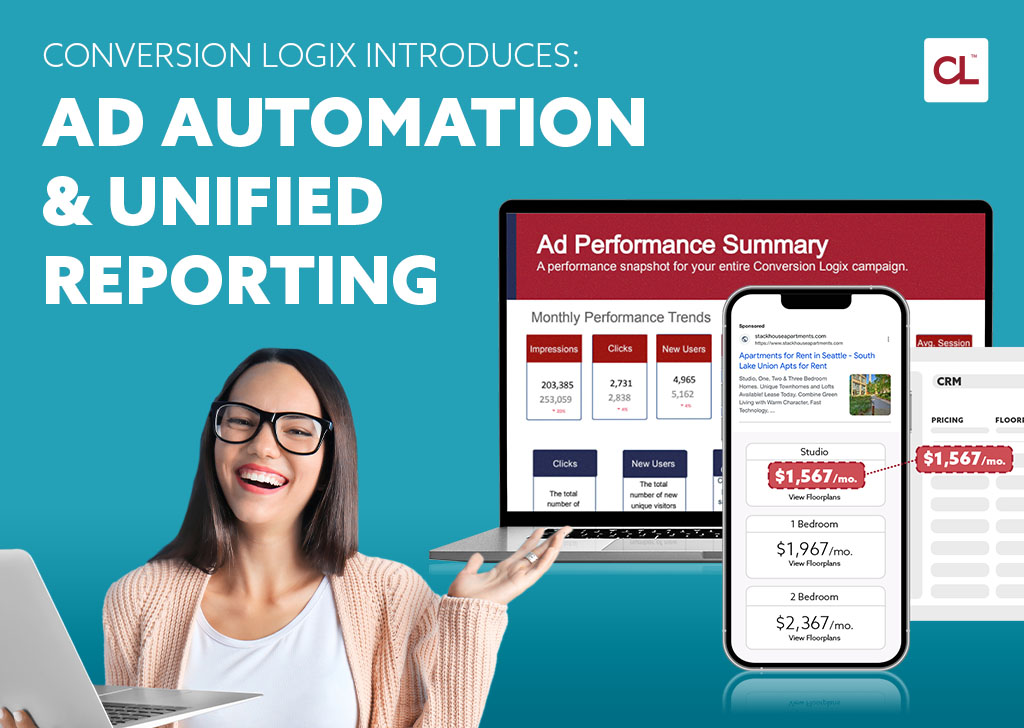 Today, Conversion Logix launches the next generation of advertising with real-time ad updates that save you time from constantly monitoring your CRM, increasing campaign speed and accuracy. Access enhanced unified reporting to make lighting-fast data-driven decisions that maximize your investment.
The Future of Advertising Begins Now
We've all been there. Never-ending email threads, phone calls from ownership groups wondering why the pricing on an ad is different than the website, and a packed calendar of Zoom calls with little room to breathe.
All of this adds up to marketers' roles being more challenging than ever before as…
Marketing is happening across more channels
Customer preferences are changing quickly
Sales and marketing are wearing more hats
To solve this, we launched Ad Automation and Unified Reporting to save time, allowing our team and yours to make more impactful changes while ensuring campaigns run smoothly and accurately.
To kick off our automation service, we're capturing availability, concessions, and pricing data from the major multifamily CRM platforms: RealPage, Entrata, and Yardi, to proactively adjust campaigns when things change at a property.
For example, we're:
Pausing three-bedroom keywords when there are no three-bedrooms available
Shifting budget toward floorplans that have more availability
Updating pricing to ensure consistency across your search campaigns
This is the first step toward a fully-automated future where basic campaign updates happen in real-time, leaving our account management team free to focus on optimization and strategic consultation with our clients.
While automation's biggest asset may be its' time-saving nature, it's not the only core benefit it offers the industry. It also sets the stage for us to achieve truly omnichannel campaigns.
One Step Closer to Omnichannel
Automation allows us to connect data across platforms, maximize performance, increase campaign speed and accuracy, and deliver real-time reports to make data-driven decisions.
These capabilities will launch us into the next era of marketing: omnichannel marketing.
Omnichannel marketing is all about developing a unified and consistent cross-channel experience for customers.
With our latest update, Conversion Logix brings our clients further into the future of the industry.
Powerful New Automation and Reporting Features
Reduce time spent communicating onsite changes to your advertising vendor, giving you more time for high-impact, strategic tasks.
Faster ad updates enable you to respond faster to market changes, maximizing the length of time your campaign optimizations are running on peak performance
Make data-driven decisions based on an integrated view of your ad campaign and lead performance
Ad Automation in Action
Fill vacancies faster. Reach prospects interested in your vacant floorplans for quicker leasing results.
Free teams from constant monitoring. Enable teams to focus on high-impact tasks that turn prospects into renters.
Better campaign performance. Maximize ad engagement with faster updates to ad copy, keyword targeting, and ad extensions.
Peace of mind. Ensure your ads remain up-to-date without having to monitor and report frequent changes across your properties.
What's New About Our Unified Reporting
Unlock new insights. Leverage integrated multichannel reporting of ad campaign performance combined with lead generation activity to gain a holistic view of your total marketing performance.
Quickly optimize campaigns. Reach data-driven decisions faster with more concise and unified reports sent directly to your inbox. Our new monthly reports focus on relevant KPIs that enable you to analyze campaigns at a glance.
Become the expert. Master KPI definitions in the monthly report to gain greater insights into your campaign performance and educate stakeholders.
Stay informed. Always be prepared to answer stakeholder questions. Easily access all your marketing data in real-time and in one place. Log in at any time to view a detailed breakdown of your campaigns in your live dashboard
Gain Early Access
Are you ready to start automating? Join our priority list to be one of the first in line to add Ad Automation to your campaign. Contact your Conversion Logix account manager or schedule a call to get started.
Schedule a Call