Conversion Logix® Introduces New Website Engagement App Spotlight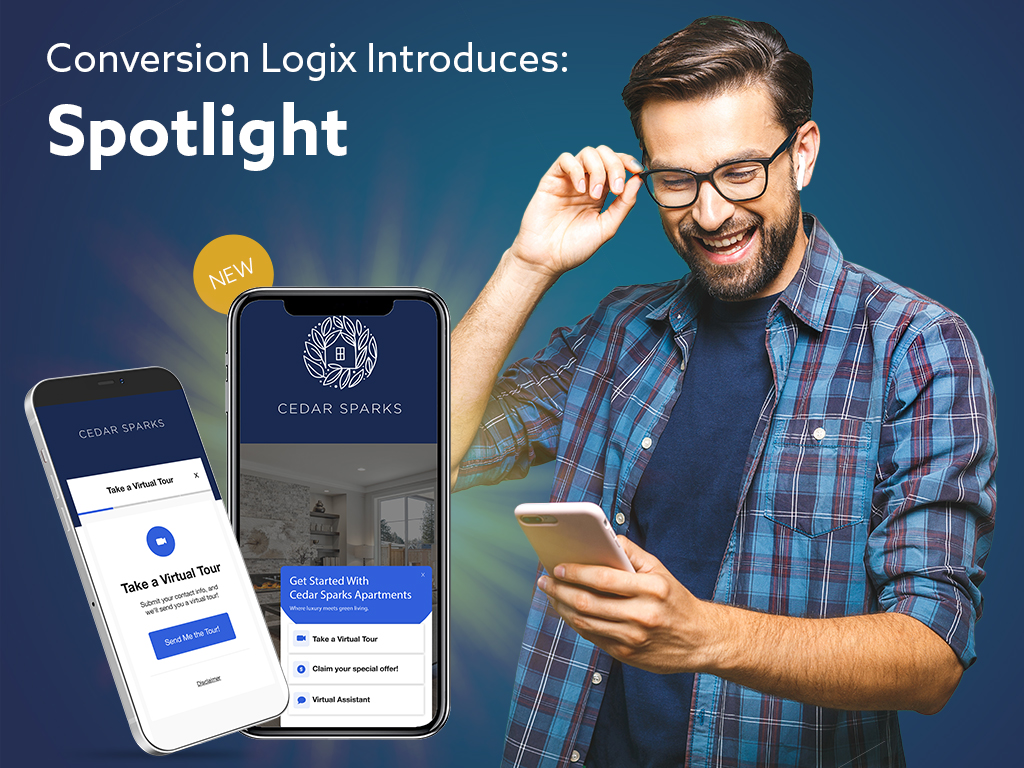 At Conversion Logix, we've spent over a decade helping marketers, managers, and business owners generate leads, appointments, and sales. We do this through a continuous marketing approach we call the 3C's: "Capture, Connect, and Convert". It's more important than ever for organizations to respond to rapid shifts in consumer behavior and the rise in demand for automated and virtual experiences.
To help organizations meet this challenge, we developed Spotlight, a fully customizable lead capture application designed to promote featured calls to action on your website and encourage website visitors to interact with your brand online.
With Spotlight, you now have a fast and simple way for prospects to click and take the next step without the pains of updating your website's content. It's now possible for prospects to take virtual tours, RSVP for events, claim offers, or take a unique action designed by your team with our custom application builder option.
You can select which of the pre-configured applications you'll feature on your site, and the messages that you are trying to convey at any time. You can even see which applications are resonating with your prospects in our reporting with customizable reports!
How Spotlight Empowers Marketing & Sales Teams
Enables prospects to visualize and identify with your community
When prospects research your community online, they are trying to visualize what it's like to live there. The better that prospects connect with your community, the more likely they are to move in. Prospects typically ask themselves a host of questions like…
What floorplans are available right now?
Does this community offer any concessions?
Can I tour this community virtually?
Can you notify me when this property is available to lease?
With Spotlight, we've provided pre-populated applications for your website that help you answer all of these questions and provide a simple and customizable way for prospects to click and take the next step!
Expands your lead generation opportunities
Spotlight gives you the ability to guide prospects through the buyer's journey, collecting their lead information along the way.
By adding new calls to action to each page of your website, you can increase the volume of website visitors who engage with your brand and the number of touchpoints they engage with in their journey. The responses are automated, enabling prospects to find the information they are looking for outside of business hours and freeing up your onsite teams to focus on higher-level tasks.
Every time a prospect engages with a Spotlight application, your team can see their contact information and the marketing source that brought them to your site. This turns traffic that would have otherwise remained anonymous into identifiable leads that your sales and marketing team can reach out to.
Enables you to respond quickly to changing consumer behavior
Updated reporting makes it easy to identify the strategies and applications that generate the most conversions. Configurable reports show you which applications are driving the most conversions, the channels your leads are coming from, and the actions leads take after their first conversion.
Use these insights to adapt your lead generation strategy quickly with pre-populated applications and automated email responses that make it easy to launch a new lead capture application within minutes.
With Spotlight, you can update your offers on your web page in real-time based on reports without waiting for web developers and analysts.
Automates responses and prompts sales teams with speed and precision
Spotlight applications feature automated email responses to ensure that leads are coming through day and night. Prospects using Spotlight receive an instant follow-up email with the information they are looking for right after they engage with your brand online. When a prospect interacts with an application in Spotlight, your team is instantly notified to increase their ability to follow up with leads quickly.
Explore a Multitude of Lead Generation Strategies
Conversion Cloud users can select from a list of ten pre-configured applications or create their own with our easy-to-use custom application template. We curated residential marketing experts' best-performing website engagement messaging to offer you the following list of out-of-the-box lead capture applications in Spotlight.
Marketing Applications
Opportunities/Promotions
Concession Manager
Tour Now
Floor Plans
Event RSVP
Brochures
Stay in Touch
Questions
Recruiting Applications
Job Openings
Schedule Interview
Get Started With Spotlight
Current and future Conversion Cloud customers will automatically receive complimentary access to Spotlight. Have questions about launching applications in Spotlight? Contact your Conversion Logix account manager to get started. If you aren't yet a Conversion Cloud customer and are interested in learning more about the full software suite, start here.
Schedule a Call