Conversion Logix Streamlines Lead Management With Anyone Home Integration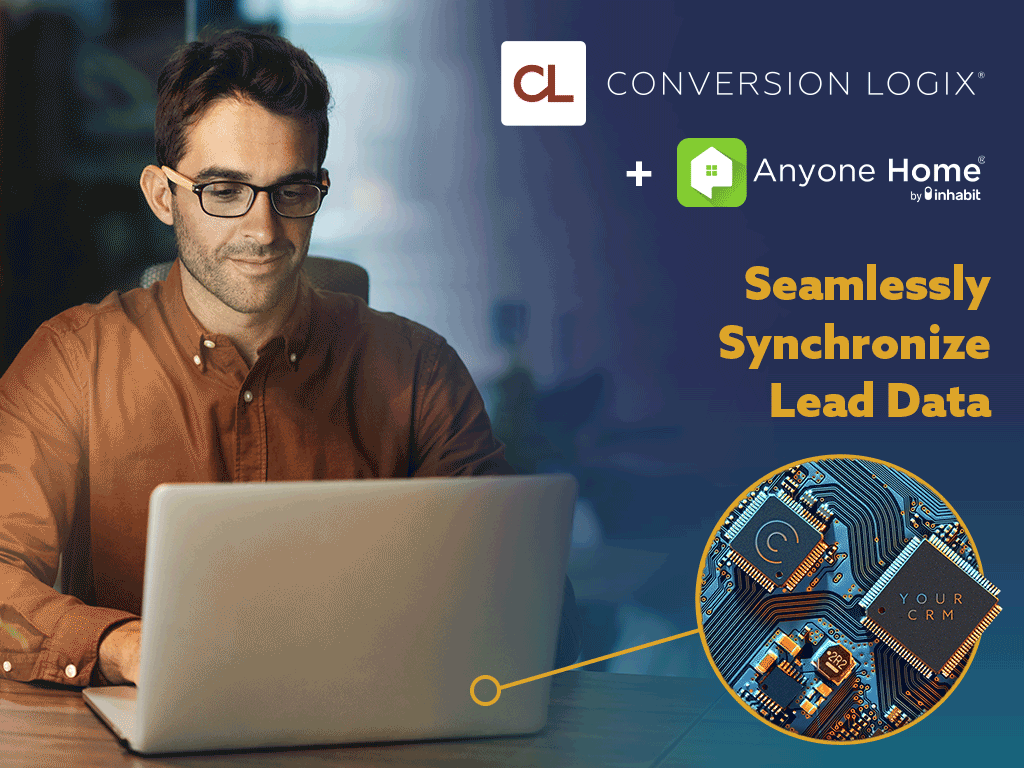 In today's competitive rental market, property management teams face significant pressure to maintain occupancy amidst a flighty renter base and uncertain economic conditions. Multifamily operators need innovative solutions to attract prospects and retain residents with real-time information while not burning out onsite teams. To enable property managers to meet these challenges, we've built an integration with property management technology provider Anyone Home to streamline lead management between platforms.
Now Conversion Logix clients leveraging The Conversion CloudⓇ to connect and convert website leads can seamlessly manage those leads in Anyone Home's CRM, increasing lead response times.
How This Integration Empowers Leasing Teams
Anyone Home users can harness the power of The Conversion Cloud to capture lead information and automate communication between prospects and communities, reducing the burden of onsite teams to provide instant responses during or after business hours.
"We are excited to partner with Conversion Logix," said Immanuel Williams, Principal Product Manager at Anyone Home. "This collaboration allows us to combine our strengths and deliver an even more robust and transformative leasing experience to our clients. Together, multifamily operators can capture, nurture, and convert more leads with unparalleled reporting insights inside our single, comprehensive leasing platform."
Additionally, Anyone Home users integrating with The Conversion Cloud have immediate access to new leads in their Anyone Home dashboard, giving onsite teams a head start on nurturing leads through the leasing journey.
"Prospective renters today want a seamless, stress-free experience throughout the leasing journey. We're excited to announce the integration of our lead generation software, The Conversion Cloud, with industry-leading CRM partner Anyone Home," stated Andrew Cederlind, President and COO of Conversion Logix. "Now onsite teams can sync leads directly from The Conversion Cloud to Anyone Home's lead management solutions, allowing them to personalize the prospect experience and convert more leads to leases."
Benefits of Conversion Logix + Anyone Home:
Continuous lead pipeline. The Conversion Cloud provides leasing teams the ability to connect with prospects 24/7 and automate lead capture to increase online conversions.
Faster lead response times. Conversion Cloud users give prospective residents on-demand, real-time responses instantaneously through a range of applications, from virtual assistants to incentive offers. Our integration directly populates leads into the Anyone Home CRM dashboard, giving teams instant access to new lead information to provide faster follow-up experiences.
Automated lead population. Free property managers from wasted time exporting files, cleaning data, and importing new contacts.
Manage leads in one place. Prospect details from The Conversion Cloud live in your Rent Dynamics dashboard, giving you one spot to manage lead follow-up.
Get Started
Interested in syncing your Conversion Cloud leads with your Anyone Home's CRM? Contact your Conversion Logix account manager to get started or schedule a call to learn more.
Want to learn more about The Conversion Cloud? Visit this page for more information.
About Conversion Logix
Conversion Logix®, LLC provides digital marketing services and licenses lead generation software to industry leaders in the multifamily housing, senior living, automotive, and small business markets. Our people work across the industry sectors that drive and shape today's small business marketplace. Conversion Logix has been ranked on the Inc. 5000 seven years in a row and listed in Austin Business Journal's Fast 50 Growing Companies. Conversion Logix is a Premier Google Partner, a Facebook Business Partner, and developed The Conversion Cloud®, a lead generation software suite designed to help businesses generate more leads, appointments, and sales. Learn how Conversion Logix is transforming local business marketing at conversionlogix.com.
About Anyone Home
Anyone Home is the premier software and labor partner, delivering solutions to assist leasing teams in capturing, nurturing, and converting leads to happy residents. Serving over one million units nationwide, Anyone Home's combined platform provides unmatched insight into the customer journey that results in actionable analytics.
Solutions include Leasing CRM, Marketing Websites, Property Tours, Leasing Chatbot, Contact Center, and Leasing Call Analysis. For more information, visit anyonehome.com.
Schedule a Call