Five Reasons Student Housing Should Advertise on TikTok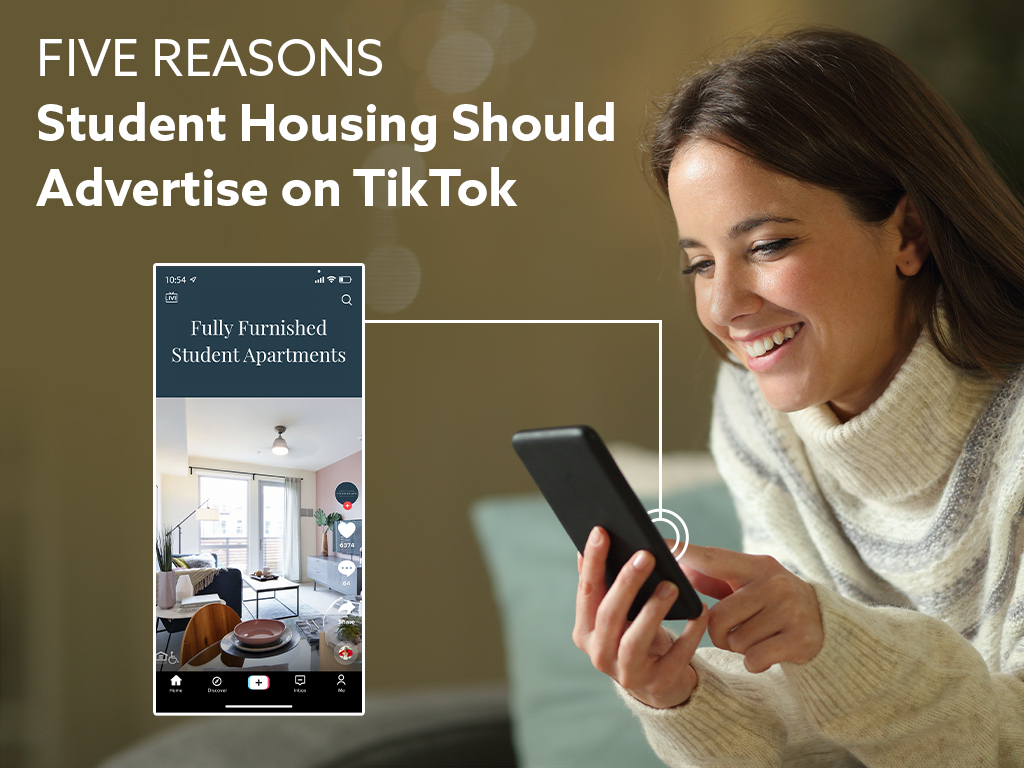 I'm sure this isn't your first time hearing a marketer wax poetic about the benefits of reaching prospects on social media and "meeting your future residents where they are". These platforms have forever changed media consumption habits making it a can't-miss opportunity for marketers.
As much as we love all social media, the inevitable day comes when the social fabric changes and everyone jumps ship to a new platform to reach their audience.
Today that ship is TikTok, and it's become a megayacht transporting its users through a sea of personalized video content.
The short-form video-sharing app is most popular among young adults, with 43% of users ages 18-24 and 32% of users ages 25-34 (DataReportal, 2022), making it an incredible platform to reach students and young professionals.
Building up a presence on a new social media platform can feel daunting, and for many organizations, "going viral" isn't a viable marketing strategy. If this is the case for your organization, the best strategy is to leverage TikTok through advertising. Unlike uploading organic video content to TikTok and hoping to "make it big", TikTok advertising offers a targeted and scalable approach to reaching college students in the market for an apartment.
Here are five reasons why we think student housing marketers should consider advertising on TikTok.
1. TikTok ads are immersive.
TikTok offers full-screen mobile video placements that can highlight the features and benefits of highly visual products like apartments. 
Whether you are sharing a video walkthrough of a unit, showcasing student social life, or a splash into the community pool, the vertical video format can bring your units and amenities to life across your prospects' screens in a way that static images can't match. 
This lifelike ad format makes TikTok ads more memorable, increasing brand recall. Across client campaigns, we saw lifts in organic and paid search results after running TikTok ad campaigns, indicating the stickiness of video-first branding strategies like TikTok.
2. TikTok has powerful targeting and AI capabilities. 
The platform has evolved in recent years from its initial focus on music and dance videos into an entertainment platform that caters to all types of interests and niche communities.
Today the platform is well known for its intelligent learning algorithm. It excels at determining which video content users are likely to respond to, which is why its "for-you-feed" is such a popular feature of the platform. 
As a TikTok advertiser, you gain access to a wide variety of interest-targeting options that ensure you reach your target market consistently. When creating student apartment ads, we were able to layer TikTok's targeting strategies to build an audience of prospective renters looking for housing for a specific university, enabling us to reach the right audience for our clients.
3. TikTok users are more engaged.
The TikTok user base engages on the platform more than other social media sites, with 79% of users reading the comments and over half saving sound clips or searching hashtags (Nielsen). 
Even though the content is primarily video, users on the platform aren't just passively scrolling through content. They are opening and reading comments, sharing content, and utilizing the search function to discover new content. 
4. TikTok prioritizes discovery.
The platform is unique in that it prioritizes discovery, presenting users with a wide variety of creators and content curated to their user behavior. A Nielsen study commissioned by TikTok found that 88% of TikTokers love discovering new content while using the app, and 52% of users say they discover new products through ads on TikTok.
Unlike other social networks, where users follow friends and expect to see most of their content from their followers, users are in a discovery mindset on the platform, making them more open to seeing content from new users and brands.
5. TikTok users are receptive to advertising on the app.
Over 80% of users say ads on TikTok are enjoyable (Kantar). 43% of heavy TikTok users feel that the advertising on the platform blends in well with the content, and 61% of users feel that advertising on TikTok is unique compared to other top social and video platforms (Nielsen).
Interested in bringing your brand to TikTok but don't know where to begin? Learn more about Conversion Logix's TikTok advertising service and how our team of social ad experts can get you started.
Schedule a Call