How to Create Thumb-Stopping Facebook Ads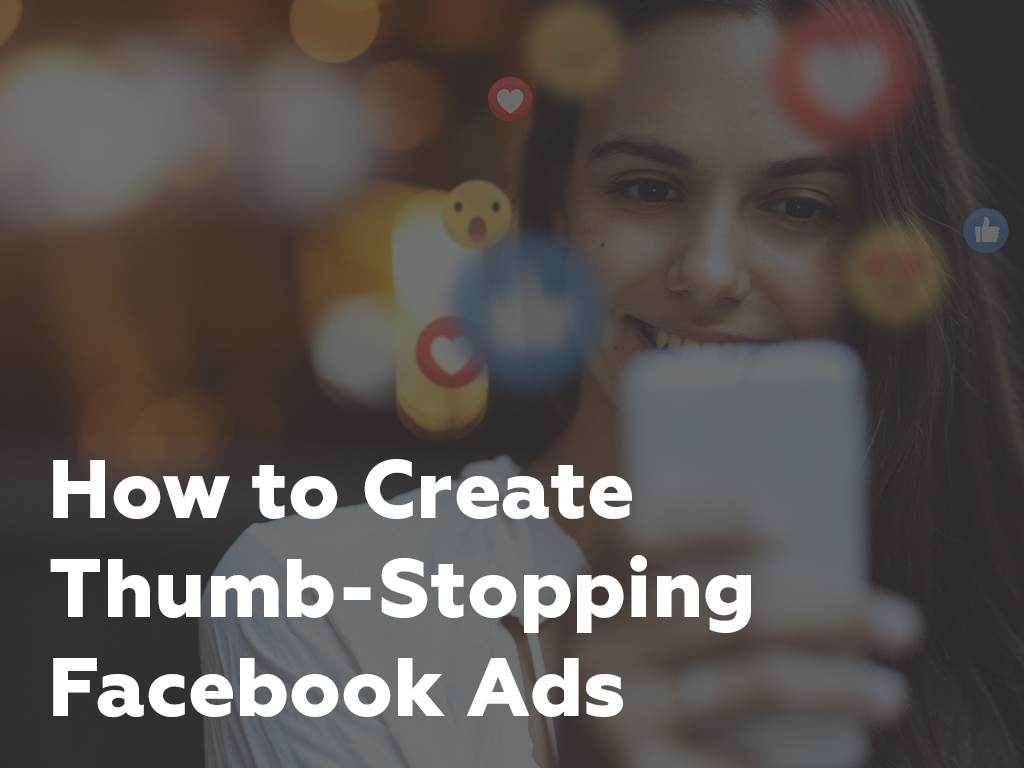 Do you ever feel like your marketing messages are getting lost in a sea of content? You have reason to feel like that since the average person sees 4,000-10,000 ads per day. While Facebook's ad network provides advertisers with incredible tools to reach consumers across today's most popular social media apps, it offers no guarantees that your ad will receive engagement or result in revenue-driving actions. It's crucial for companies to create compelling ad content to get the most out of their ad dollars. To help you rise above today's tsunami of ad content, we're sharing five tips for creating thumb-stopping Facebook ads.
Establish Relevancy
It's one thing to capture your customer's attention and an entirely different thing to hold their attention. The key difference is relevance. One of the most powerful tools that Facebook offers advertisers is the ability to target an audience based on their interests and behavior. Use this feature to your advantage and create ads that show your audience you understand them.
Three ways to establish relevancy:
Speak your audience's language. Does your target audience use emojis or pop culture references when they post to social media? Try incorporating them into your ad copy.
Address pain points. Are you promoting a product or service that makes a working professional's life easier? Tell them how your offering can help solve specific stressors or inconveniences they face in their day-to-day life.
Speak to objections. Are competing products or services missing the mark? Explain how your offering is different and describe how it meets the needs similar products have failed to address.
Design With Sound Off for Facebook and On for Instagram Stories
Don't assume that all of your video viewers are watching your ad with sound on. 85% of Facebook videos are watched without sound, while 60% of Instagram Stories are watched with the sound on (Instagram for Business). When creating Facebook and Instagram feed ads, show before you tell. Avoid filming video content that is solely based on a person speaking. Instead, use visual cues and copy in the ad to ensure your audience understands what your ad is trying to communicate. When designing for Instagram Stories, incorporate audio when it enhances your ad experience but similar to feed ads, don't rely on it to communicate your message.
Design for Mobile
Most Facebook and Instagram users access these platforms on their mobile devices which means they consume content in Facebook and Instagram's feed and in Instagram Stories. To maximize space in the mobile feed, use vertical or square video and photo ads.
One of the most compelling aspects of Stories as an ad placement is the full-screen experience. Create vertical video content to design your ad content to fit in this ad format. This will help your content appear more native in Stories and take advantage of the visual real estate this placement offers.
Capture Attention with Color
Communicate with color. Facebook and Instagram are both visual platforms. The colors you use in your imagery, graphic design, and video can play a role in the emotions that a user experiences when they see your ad. Leverage color psychology to your advantage and select colors that elicit reactions that align with your ad message. Facebook advises that advertisers use contrasting colors to help users differentiate between your product and the background colors in your photo or video content.
Deliver Value Through the Ad Experience
The value your ad content delivers has an impact on how engaged your audience will be with your brand. What "value adds" do ad viewers find the most engaging? In a consumer survey from Sprout Social, here's what people said was thumb-stopping:
41% said the most engaging social ad content entertained them
37% said it offered a discount
33% said it taught them something
26% said it referenced their interests
20% said it told a story
10% said it came from a brand their friends like
If you can find a way to make your ads entertaining, promote an offer, or teach your audience something, you are more likely to hold their attention and engage them with your product or service.
Conclusion
While it's more competitive than ever to stand out in today's online social networks, today's advertisers have more tools at their disposal than they ever had. Facebook's ad platform is offering more ways to create compelling content that drives awareness and ad engagement across their family of apps. We hope you found these tips helpful and utilize the recommendations to create top-performing ad campaigns. To learn more about Facebook Advertising with Conversion Logix visit this page. 
For more Facebook ad tips watch the webinar "Harness the Power of Facebook Advertising"
Schedule a Call