How to Get Gen Z Renters to Talk to You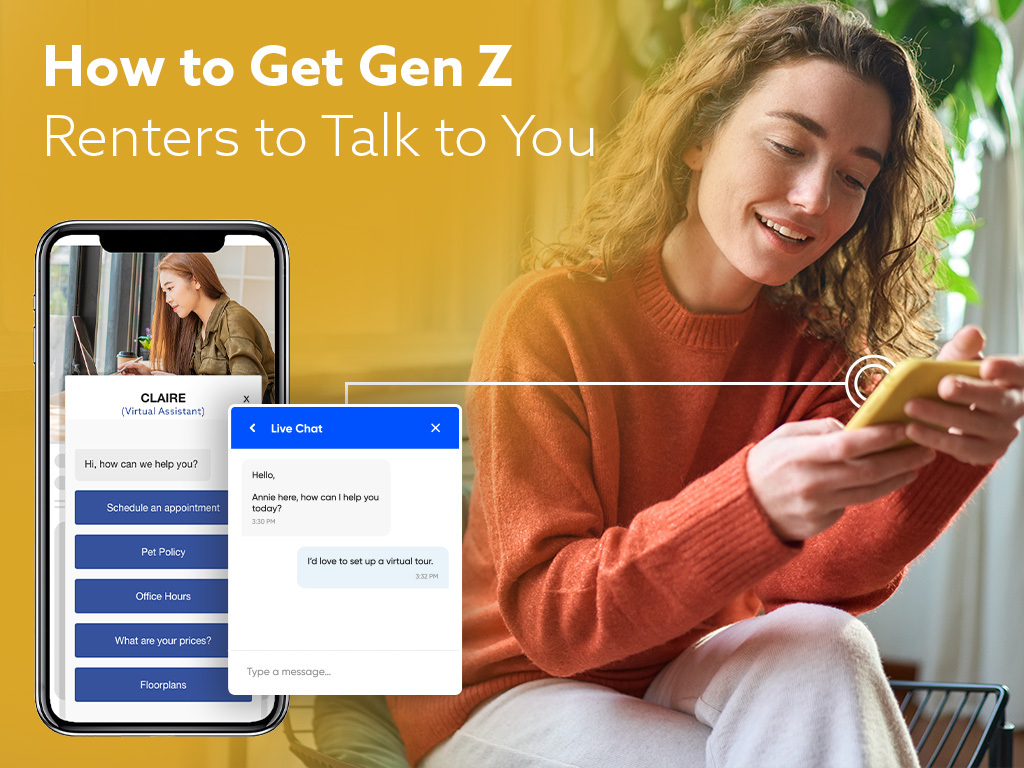 Unlock the Power of Live Chat With Gen Z Renters
Gen Z is the first truly digital generation. They've grown up with technology at their fingertips, giving them instant, convenient, and accessible ways to communicate. They don't like calling you on the phone and don't want to wait days to hear back from you in their inbox. So what's the best way to connect with this new generation as they search for their next apartment? It's immediate communication and engagement with live chat and virtual assistants. Here are a few reasons why Gen Z prefers online chat conversations and why apartment marketers need to incorporate these communication options in their marketing plans.
Prioritize Convenience With Live Chat
Chatting online allows Gen Z to communicate with businesses at their own pace and convenience without having to wait on hold or be available during specific business hours. Like the Millennials before them, this generation is not used to phone calls and prefers to talk to people and businesses on their terms and online. Having spent most of their lives using text messaging and instant messaging through social media to communicate with friends and family, they find it more comfortable and natural to message a business versus picking up a phone.
Deliver Instant Gratification With Lightning-Fast Response Times
We've all heard the rumors that Gen Z has the lowest attention span, willing to wait only seconds before they scroll onto the next video or jump off a website. eMarketer recently reported that Gen Z's TikTok attention span is eight seconds, so think about how that translates into other aspects of their online lives. Gen Z values quick and real-time communication, and online chat allows for immediate responses, reducing the likelihood that they move on to a competitor and end a conversation with your community before it begins.
Account for Multi-Tasking
Gen Z is highly adept at multi-tasking. Virtual assistants and live chat agents allow them to communicate with businesses while also engaging in other activities, such as browsing the web, working remotely, or watching videos on social media.
Give a Safe Space to Ask Questions
Chatting online offers a more personal and less formal communication style than a phone call, which can be particularly appealing for Gen Z. They may feel more comfortable asking questions about topics like roommates, pricing, income qualification, and pet policies anonymously. The low-stakes nature of chat allows these renters to get the information they need to make a leasing decision without the social pressure of a face-to-face conversation.
Connecting With Gen Z
Incorporating live chat functionality on your website can go a long way in increasing engagement with Gen Z renters and setting your apartment community up for long-term success. However, improving communication with onsite teams isn't the only way apartment marketers can need to level up their marketing efforts to appeal to Gen Z. This new crop of renters is spending more time on short-form video platforms like TikTok than any other generation.
To help you get up to speed on the advantages of TikTok, we have a quick 24-minute LinkedIn Live recording that answers marketers' most popular TikTok questions. You can also explore the 5 advantages of TikTok advertising for more tips on reaching the next generation of apartment renters.
Schedule a Call