Lead Capture Strategies for Each Stage of the Lease-Up Process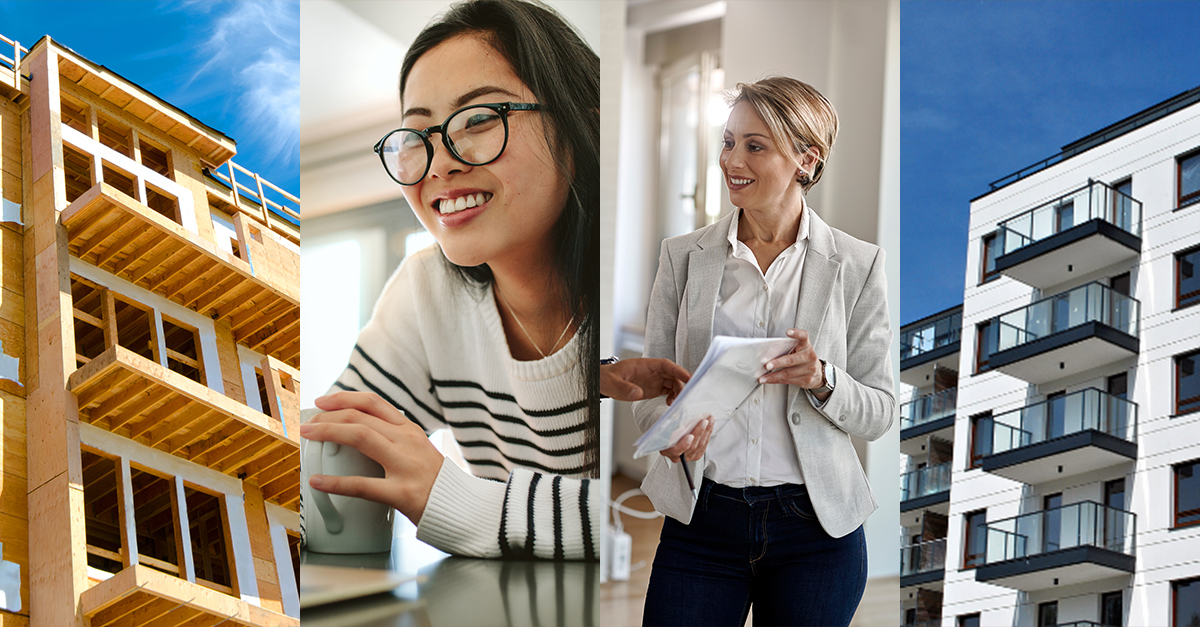 Lead generation is a critical component of taking a property from the development stage to sustainability. After over a decade of creating marketing campaigns for the biggest names in property management, our agency has developed lead capture technology and marketing strategies for lease-up properties trying to reach sustainability. In this blog post, we share the lead capture strategies we use to help the nation's top property management companies generate leads at each stage of the lease-up process.
Stage 1: Coming Soon
Kick-off your lease-up marketing strategy with a coming soon campaign to build up interest in your new development. This stage of a lease-up marketing strategy usually lasts 3-6 months and takes place while a property is under construction. The goal of this phase is to build interest in the new development and collect contact information from website visitors for future communication.
At this stage, we recommend putting together a branded landing page to give prospects information about the development while the property is in the construction phase.
Your primary call to action should be centered around capturing email addresses from interested prospects so you can continue to communicate with them when the property opens and starts leasing.
Use a call to action like "Join Our VIP List" to direct website visitors to give you their email address and expect updates about the property. Use a contact form or more sophisticated lead capture technology to collect the prospect's name, email address, and phone number. At Conversion Logix we recommend our clients use Spotlight, a lead capture module that can be customized to promote any call to action on a site, capture contact information, ask pre-qualifying questions, and send prospects a customizable confirmation email.
Stage 2: Pre-Leasing
The pre-leasing stage usually lasts two months and begins the process of converting leads into leases before the property becomes available. At this stage of the campaign, most communities have built out a full website and are ready to promote a call to action to "pre-lease" at their community.
Promoting limited-time specials is one way your community can build a sense of urgency and convert prospects into leases in advance of the property's opening date. Through a lead capture module like Spotlight communities can highlight a pre-leasing offer on each page of the community's site and capture prospect information from those who opt to "Claim the Offer". 
It's at this stage you should begin sending emails to prospects who joined your VIP list and let them know the community is available to pre-lease. Promote your limited-time pre-leasing offer in the headline of your email and use images in your email designs to show off the community's new units and amenity spaces.
Once you start the leasing process, prospects will have more questions as they move closer to making a commitment. Adding a live chat option to your site can help you address prospect questions and capture contact information from new website visitors. A live chat agent can gather information about a prospect through natural conversation and pass the information along to a leasing agent, who can use the lead information to pre-qualify the prospect and follow up with relevant information.
Stage 3: Now Open
Once you reach the "Now Open" phase you should be able to lean on the audience you built up from marketing activities you performed earlier in the lease-up process. This stage can last 3-6 months as the community tries to maximize its marketing efforts and re-engage prospects.
Now is the time to send email announcements to your email list and launch retargeting ad campaigns promoting a call to action to attend your grand opening and tour your property. Host open houses and promote them to your audience after the big grand opening day. Use look and lease specials to incentivize prospects to show up to an open house and secure a lease at a discounted price or in exchange for a gift or added amenity.
The main call to actions you want to highlight at this time are "Schedule a Tour" and "Lease Today".
Promote flexible tour options and launch self-scheduling software to increase your online tour conversions. Give prospects the option to schedule a tour in-person, watch a virtual tour, or attend a virtual guided tour. At Conversion Logix our clients use Schedule Genie to promote flexible tour options and sync their team calendar to the scheduling module to ensure prospects are able to schedule tours based on real-time availability.
Stage 4: Brand New
After the community has passed its "Now Open" phase it moves to the "Brand New" stage which can last 7-18 months. To continue to attract prospects to your site after the buzz of the grand opening and open houses, update your ad imagery, focus your campaign messaging on your community's unique selling point, and change up your specials. Promote "brand new apartments" messaging across your ads and website.
As your community starts leasing up, some floorplans may need more marketing effort to fill than others. At this stage, you can adjust your campaign to target apartment seekers looking for these units.  Email campaigns, Google Ads that target floorplan specific keywords, and Facebook/Instagram carousel ads that include a card featuring a floorplan specific message and image are all ways a community can promote a floorplan in their ad campaigns. If you have a floorplan-specific offer use lead capture technology to customize your offer to only appear on those pages of your site. Spotlight users can adjust their offer to promote a floorplan specific promotion on specific pages of their website to increase their chances of converting valuable prospects into leads. 
Conclusion
As you move through each stage in the lease-up marketing journey remember to provide relevant information and additional opportunities for prospects to engage with you. Make sure to track your website conversions and lead sources as you enact these strategies so you can identify the marketing efforts that helped you achieve your leasing results. Evaluate your marketing on a monthly basis and readjust your marketing efforts to maximize your investment in the campaigns and lead capture strategies generating your community the best results.
Interested in seeing what kinds of results communities are getting using the lead capture strategies outlined in this blog post? Check out our case studies page to see how our clients have used these strategies to achieve their leasing goals.
Schedule a Call