Seasonal Ad Performance During COVID-19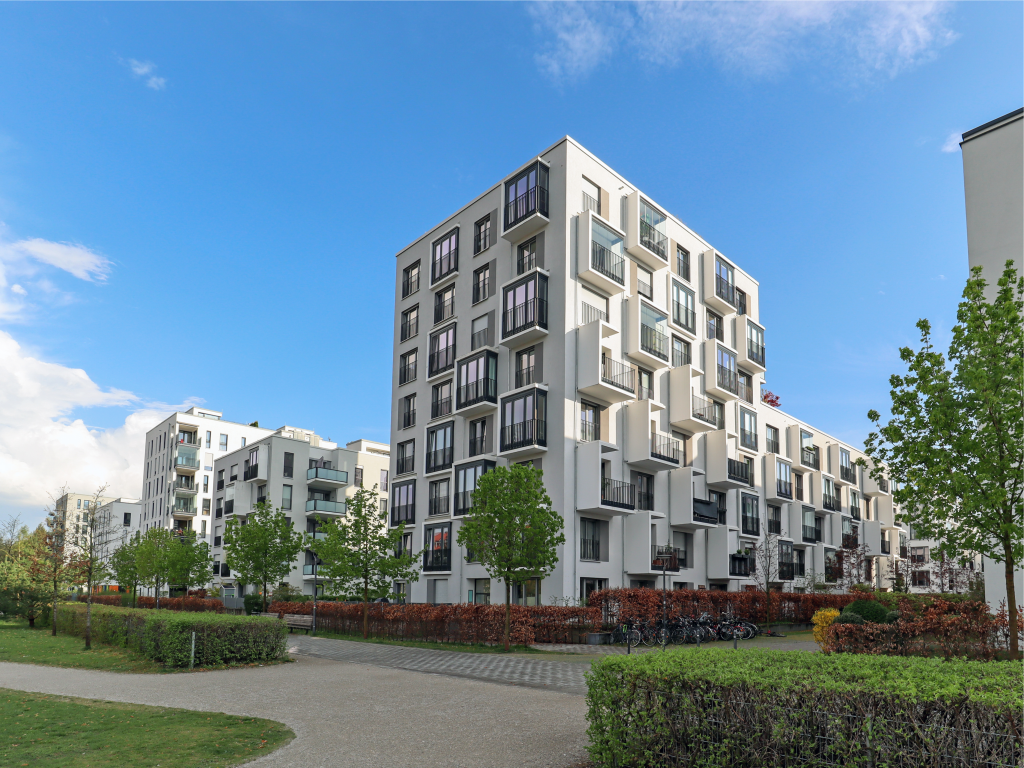 What if you missed out on the greatest digital ad performance in the last 5 years? Seasonal trends dictate how well your marketing channels perform throughout the year, but 2020 is different. COVID-19 shocked the ad ecosystem and sent seasonal trends off track. Learn how digital ad performance changed during 2020 and how you can capitalize on the declining cost of ads.
Typical Seasonality
Before we talk about how 2020 rocked the boat, a quick step back reveals how the seasonality of ad prices typically works and why it is important to you. Seasonality in ad prices simply means that the cost to advertise fluctuates throughout the year. The price fluctuations are tied to how competitive an ad placement is. Let's use Instagram as an example. When less users are on Instagram or there are more brands trying to advertise on Instagram, competition for each ad placement increases and so do prices. If more users are on Instagram or less brands are vying to advertise on Instagram, competition goes down and prices go down as well. The seasonality of ad prices, brought on by competition, follows a similar trend year in and year out for each ad platform. This allows you to determine which ad platforms are the most cost effective during each season so you can spend your marketing budget wisely.
Here is a quick look at the typical seasonality for popular advertising platforms:
Search Seasonality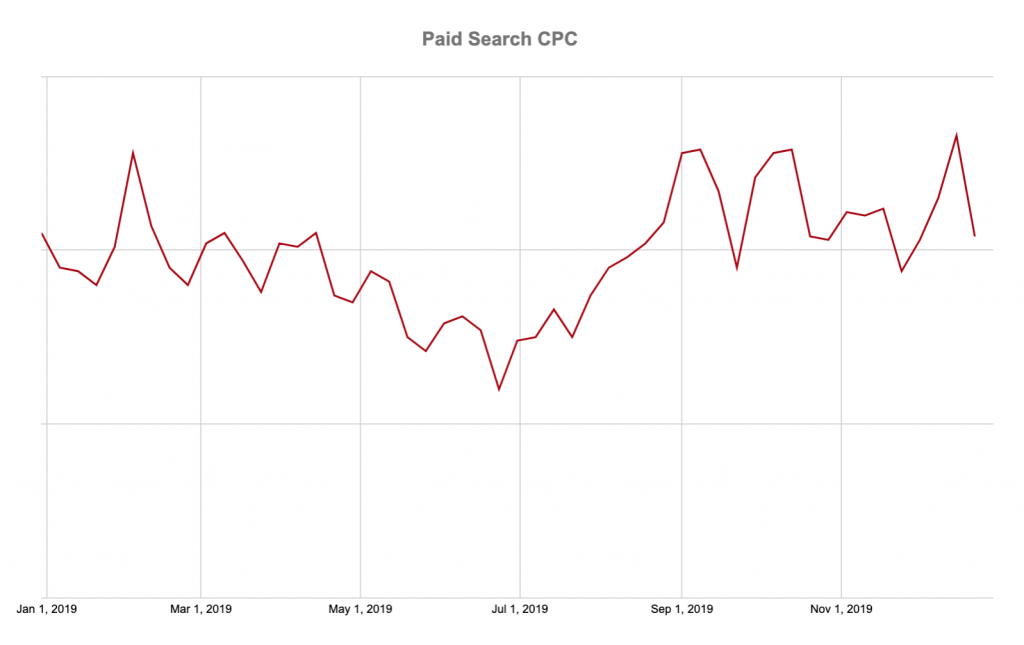 The typical seasonality of search leads to a higher Cost Per Click (CPC) in the winter and fall months and a lesser CPC leading into spring and summer months. This is due to the large influx of apartment searches that occur in spring and summer, which drive down the competition and prices amongst brands bidding on search ads.
Social Seasonality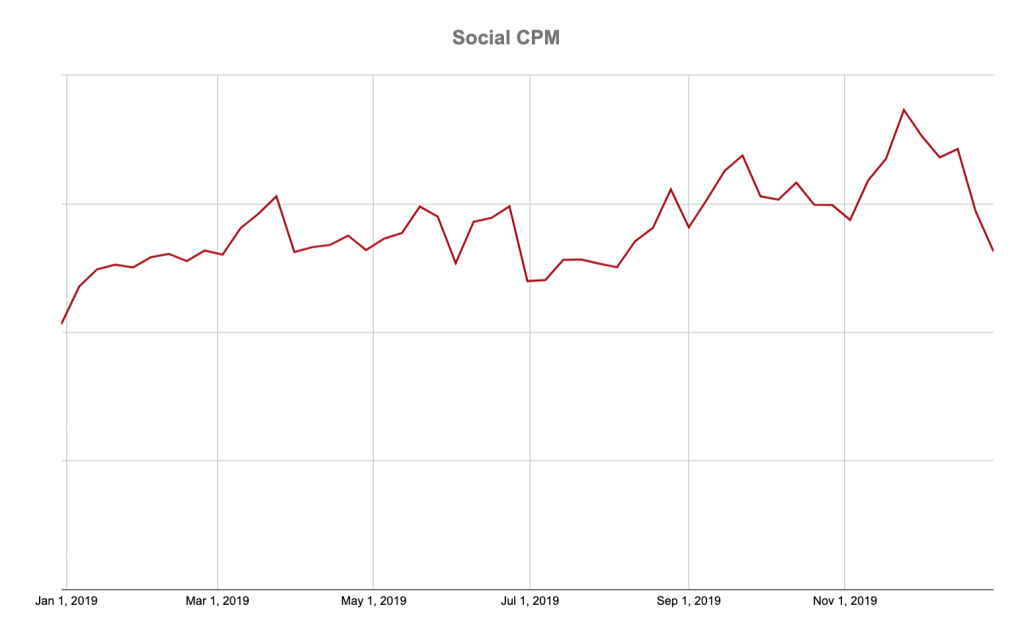 Social seasonality follows a different trend from Search. The cost per thousand social impressions (CPM) tracks with peak advertising seasons, becoming more expensive as major consumer holidays approach and competition for ad space increases. You can see the increase in costs as back to school shopping ramps up and again as the winter holiday season approaches.
The Curveball in 2020
The health crisis in 2020 severely affected the seasonality of ad prices, leaving brands with a immense opportunity to buy digital ad space at a fraction of the typical cost. The cost of Search and Social ads dipped to very favorable levels amidst the crisis and are great strategies to invest in while prices remain low. Take a look at the 2020 cost trends for Search and Social ads below:
2020 Search Costs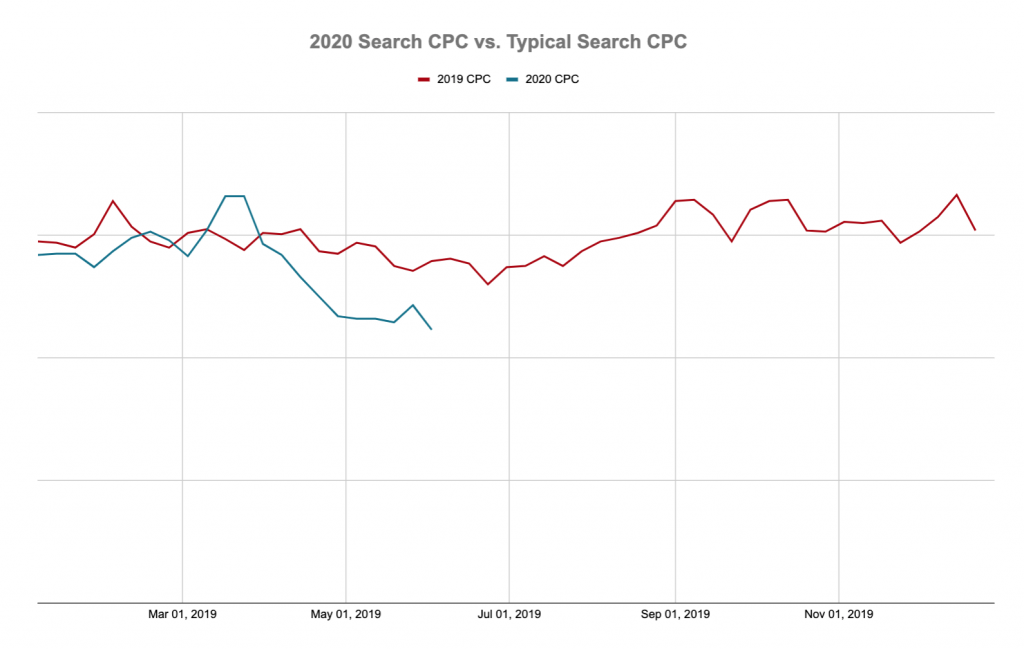 Search CPCs closely tracked seasonal trends to start the year, then spiked as COVID-19 worsened and the number of searches for apartments dramatically decreased. What we see next is unprecedented. As COVID continued, more and more communities pulled advertising spend out of Google Ads. Despite communities pulling back ad spend in fear that apartment seekers were not taking action, apartment seekers re-entered the market and started searching once again. Apartment searches were on the rise but communities were still holding back Search spend. This led to a dramatic decrease in competition for each apartment search, dropping CPCs extremely low. CPCs now remain below the seasonal trend.
2020 Social Costs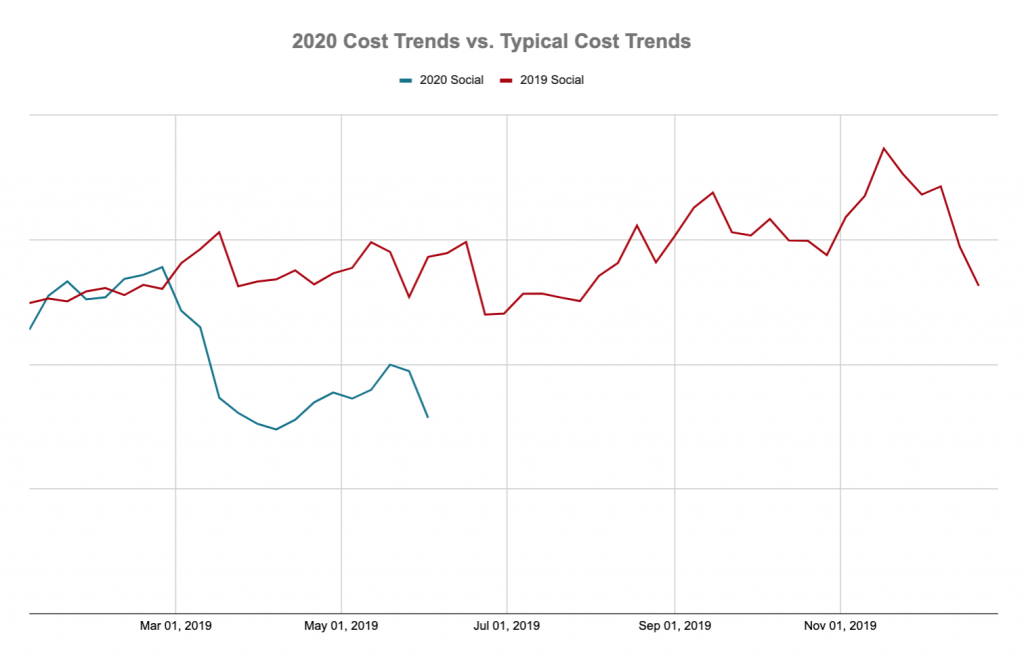 Like Search, Social costs tracked with normal seasonality until March rolled around. Advertisers across the country shrunk their social ad spend or pulled the plug on social ad spend altogether. This caused a roughly 40% drop in CPM's for apartment communities over the course of ~1 month. The 2020 Social cost trend-line now follows the shape of the 2019 trend-line, but at a much less expensive CPM.
How You Should React
Search and Social trends are behaving abnormally, but what implication does that have on your marketing strategy? Search and Social aren't just acting strange, the cost to advertise on these platforms has dramatically decreased for apartment communities. This is an opportunity you should take advantage of while you have the chance. If your community needs to promote its brand or drive website traffic that is likely to convert, we suggest you bolster your Search or Social advertising campaigns.
If you need help creating a digital advertising strategy or recommendations on how to allocate your marketing spend, reach out to one of our digital marketing professionals for a free consultation.
Schedule a Call