TikTok Ads For Student Housing: What Marketers Want to Know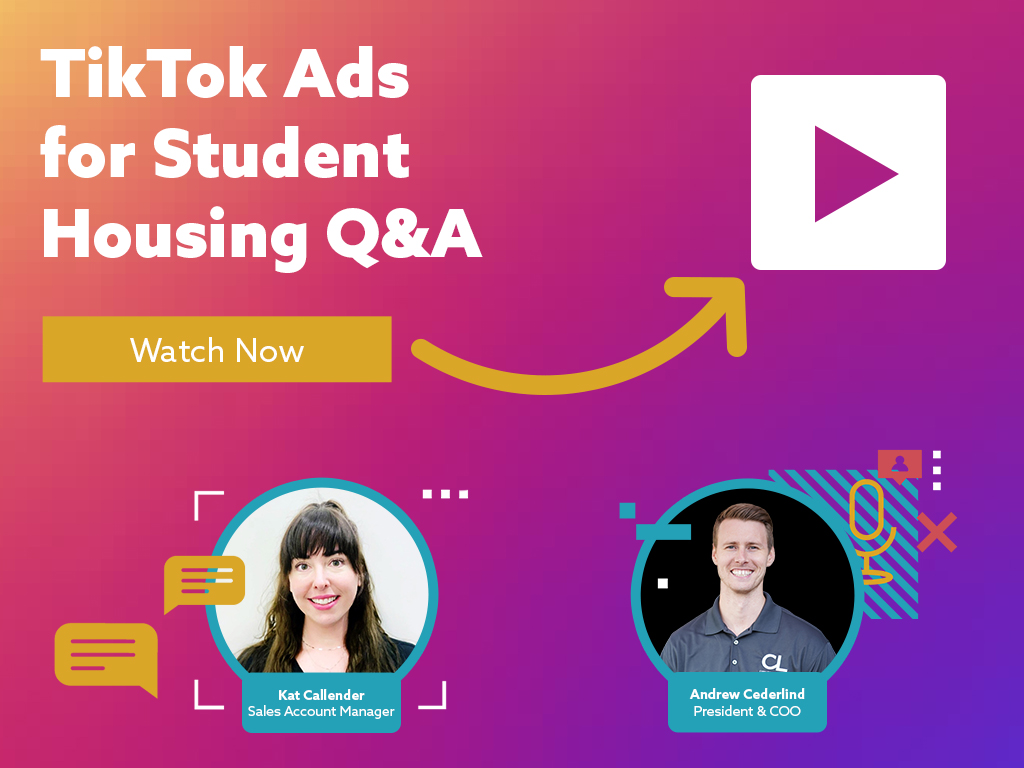 With over 1 billion active users and a never-ending feed of personalized bite-sized video content, TikTok has quickly become the go-to social video platform for college-aged students. Gen Z uses TikTok as a discovery platform as much as an entertainment platform, often citing that they discover brands and make purchase decisions based on ads they have been served or content they have searched for.
As exciting as this is for student housing marketers, the app has received pushback, from many organizations, and marketing teams are struggling to keep up with the pace of change on the platform. We've received many questions from marketers in the student housing space over the past few months who want to try TikTok advertising but feel like they are entering an entirely new domain and need help getting started.
In response to this, we hosted a LinkedIn Live event with Andrew Cederlind, our president and COO, and Kat Callender, our Student Housing advertising expert, to address these questions and concerns. You can check out the full recording, TikTok Ads For Student Housing Q&A, if you missed it.
Let's dive into the top questions student housing marketers like you are asking about TikTok Advertising.
The Truth About Ad Creative on TikTok
One of the most common concerns among student housing marketers is developing creative for TikTok. If you are using it for organic reach, you have to create fresh and engaging content frequently, which is a big challenge for short-staffed marketing teams operating on limited video and creative budgets. This is one of the reasons we recommend student housing marketers use the advertising side of the platform. It allows you to focus your efforts on one or two pieces of quick ad creative that can be updated and replaced over time and is guaranteed to deliver the reach you are looking for.
Both organic and traditional ad-style content can be effective in ads on the platform. Organic content presented as an ad can result in high video engagement rates, with viewers often watching videos all the way through.
However, even traditional ad content that is simple and headline-focused delivered even more impressive awareness and leasing results. Although there may be fewer impressions and a lower percentage of viewers watching the entire ad, overall reach and lead attribution remain high, proving that both creative styles can be successful in ads on the platform.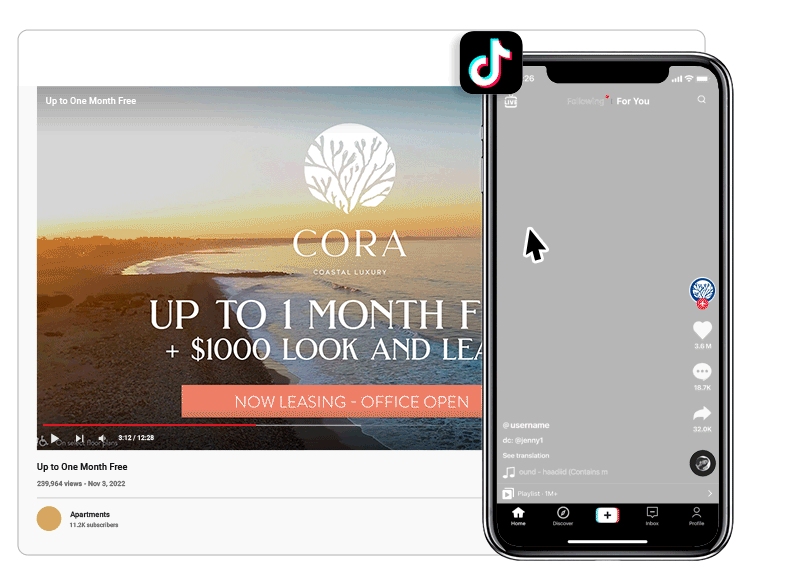 Key Performance Indicators (KPIs)
We get a lot of questions about how we measure success on social media platforms like TikTok. Attribution and tracking aren't as easy with brand awareness initiatives as it is with other forms of advertising like Paid Search.
In response to this, Kat shared the two main metrics she likes to use to tie TikTok Awareness to key results.
Pre-leasing lift: Many properties in Kat's portfolio have seen an 8-10% increase in pre-leasing rates year-over-year following the launch of a TikTok ad campaign.
Organic traffic lift: In addition to the direct traffic generated by the ads, many properties experience a significant increase in organic traffic because of their TikTok campaigns.
This 8-10% increase can be attributed to the platform's reach and its impact on organic search traffic, as users often search for brands (Google Search) after viewing their TikTok ads.
Budget Considerations
Although advertising on TikTok can be effective, many marketers may be concerned about the potential costs. Compared to similar platforms like Instagram and YouTube, TikTok requires significantly less investment to generate impressive results. A monthly spend of $850 can result in substantial reach and lead attribution, making it a high-return advertising option for student housing properties.
Instagram vs TikTok
When comparing Instagram and TikTok, both platforms offer engaging video content. TikTok has a significantly larger reach, making it a more effective advertising medium. Moreover, TikTok ads tend to be more engaging than Instagram Stories or Reels, which contributes to their overall success. "I don't find that the video content can be as engaging as TikTok," Kat shared.
In the conversation, Kat highlighted the massive reach of TikTok campaigns, with impression numbers ranging from 175,000 to over 300,000 a month.
Furthermore, Kat emphasizes the platform's enhanced targeting capabilities that continue to evolve, making advertising more accessible and tailored to specific audience needs. This allows advertisers to connect with their desired audience more effectively.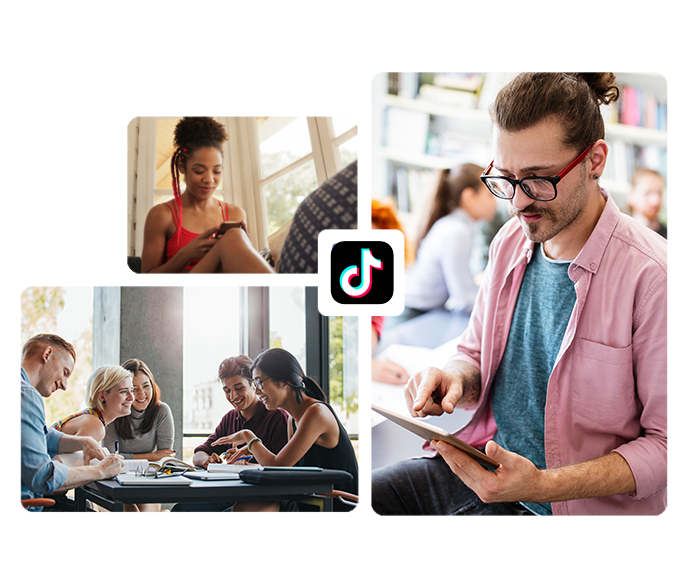 Targeting Options and Best Practices
In their discussion, Andrew and Kat touched upon the various targeting options available on TikTok and shared their insights on the ones that have worked the best
Location targeting is a crucial aspect of TikTok ads, especially for businesses such as student housing or local services. Additionally, Kat highlighted the importance of targeting based on broad interests, video interactions, and hashtags such as campus life, education, and college education. However, it is important to note, specifically targeting certain universities or anything that specifically falls under the university is not currently an available option.
General apartment or rental interest targeting has also proven to be successful for Kat and her campaigns. She further explained that if a property has its own TikTok account and creates videos, it is possible to link one of its videos to the TikTok ad. This technique can help increase engagement and brand awareness by outlining the brand and linking to a specific video.
Regulatory Considerations
Finally, Andrew and Kat touch on potential regulatory concerns surrounding TikTok, specifically regarding geo-targeting and fair housing. Kat explained that TikTok has become more sophisticated in its ad targeting capabilities, allowing advertisers to target specific Designated Market Areas (DMAs) for more accurate and effective campaigns. This granular targeting is particularly beneficial for businesses looking to reach audiences within specific geographic locations.
However, with more precise targeting comes the responsibility of ensuring fair housing practices. Kat emphasized that businesses must remain compliant with fair housing regulations when creating and targeting TikTok ads. By being mindful of their targeting choices and the content they promote, businesses can avoid potential pitfalls and maintain a successful and compliant advertising strategy on the platform.
In the final part of the discussion, Andrew addresses the future of TikTok concerning the recent challenges TikTok faces with the US Government and some universities banning access to TikTok concerning data privacy.
In the end, Andrew shared his standpoint—TikTok is a large medium and a powerful platform that has a long runway. The results of TikTok speak for themselves. He encourages taking advantage of TikTok and trying to capitalize on the audience and grow from there.
Schedule a Call