What is DOOH?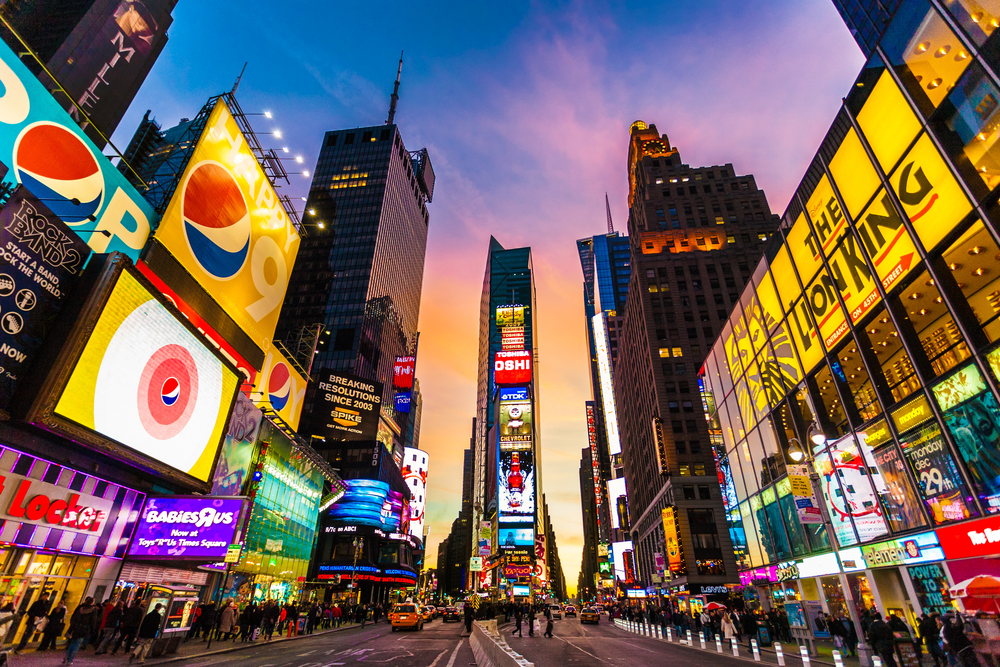 Innovation. That's not the word most marketers think of when they hear "Out-of-Home Marketing". Those old billboards and in-window flyers may seem outdated, and hard to scale. Now, what if I told you that Out-of-Home Marketing has an expected growth rate of 12.6% and can be used to reach your audience in new ways. Welcome to the world of DOOH.

What is DOOH?
DOOH stands for Digital-Out-Of-Home and refers to digital marketing that is displayed out in public areas. Examples include the digital billboard you would see in Times Square, on highways, and in malls. Out of home marketing is one of the oldest forms of advertising. The rise of the digital age has given new life to the medium with some cool new benefits.
Benefits of DOOH:
DOOH ads are typically located in high traffic areas, such as movie theaters and major transit centers. With multiple people being able to view an advertisement at the same time, impressions are racked up much more quickly than other digital marketing channels.
Unlike watching an advertisement online, viewers can not skip or exit out of a digital billboard ad. Compared to old fashioned print billboards, digital is much cheaper to set up, maintain, and update. It also comes with the added benefit of playing multiple ads in one loop.
Customization is also an advantage of DOOH. If there are times with less foot traffic in front of your ad, you can get a lower rate for those hours or completely pull your ad during those times. There are many unique ways a marketer can use DOOH, such as showing a rendered tour of an apartment community in front of where it is being constructed. Advertisers have even started to incorporate AR to engage viewers.

How Are Metrics Collected?
One of the biggest ways DOOH differs from In-home marketing is the way impressions are measured. Depending on where the ad is displayed, these methods can vary. For example, movie theaters use ticket sales to know how many people are in the auditorium that the ad is playing in. Digital billboards can use sensors and cameras to measure impressions. On the more advanced side, some billboards have face tracking and can give not only an exact amount of impressions but information about the demographics that viewed your ad as well.
Depending on where you are, there are even ways for billboards to read data from a bystander's phone to deliver a more custom ad experience (some countries treat this as a privacy issue so make sure to double-check what the laws are where your content is displayed). The most common way impressions are measured is by using data collected from 3rd party agencies to give you an estimate of how many people will pass by your sign. For example, if you are posting on a billboard that is on a highway with 10,000 daily drivers, then those will be the impressions counted.

How do you Keep Track of Conversions?
So how does a marketer measure if the leads that are coming in are conversions from their DOOH impressions? After all, you can't track them with a cookie. Well, the most commonly used way is to simply measure your campaign's lead numbers before and after the DOOH advertisement goes live. Using QR codes on your ad can help track users to achieve more accuracy with conversions.
Why Invest in DOOH?
It takes at least 6 impressions before a prospect is ready to become a warm lead. The more chances you have to leave an impression on them the better the chances they will see what you are offering. DOOH can be a cost-effective way to reach those that may not normally see your content in organic/paid internet searches. The added benefit of being able to interact and engage prospects in a physical space makes it easier for them to remember you and your message.
Conclusion:
DOOH has put a new spin on one of the oldest forms of marketing. Taking advantage of this revamped marketing channel while it is still growing is a great way to supplement your current marketing strategy. Using DOOH will keep your brand in mind both in and out of the conventional digital landscape.
Schedule a Call