A Special Announcement: Fastest-Growing Company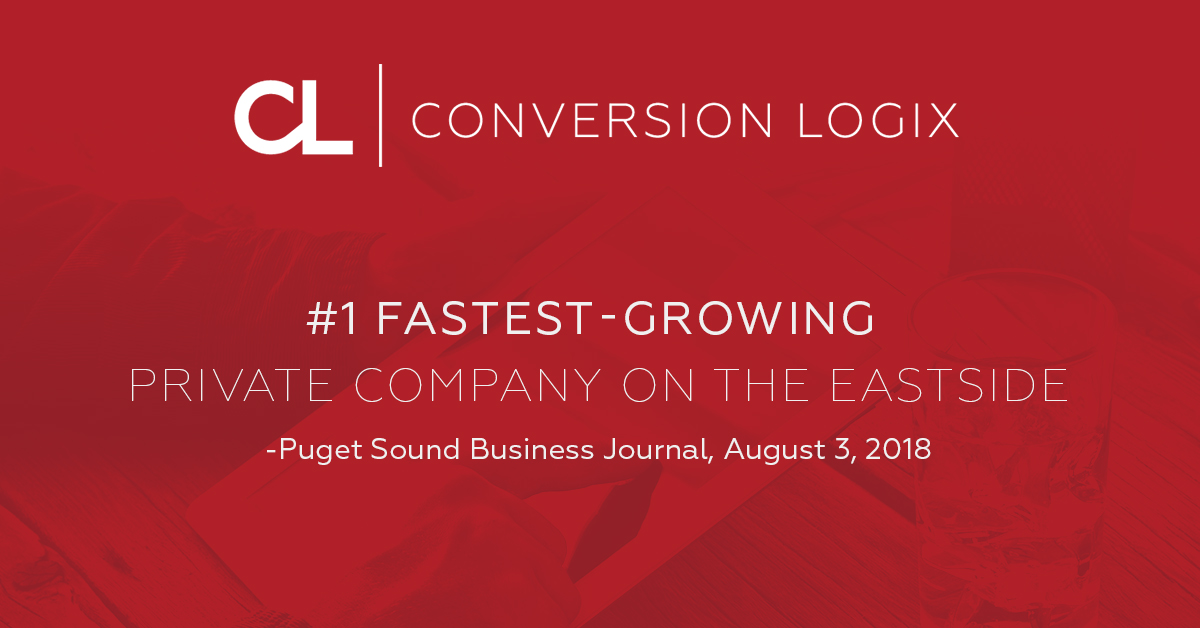 Special Announcement
We're excited to announce that we have officially been named the Puget Sound Business Journal's #1 fastest-growing private company on the Eastside!
In the detailed report by Melissa Crowe from the Puget Sound Business Journal, we were awarded the title of fastest-growing company of the Eastside based off our exponential revenue growth, increasing 270.26% from 2015 to 2017. We have recently acquired Ascendance Digital Media, dba AdsUpNow, and with this acquisition comes the combination of the #1 and #18 fastest-growing companies of the Eastside.
Neither Conversion Logix, or previously acquired AdsUpNow, are strangers to this type of award. Both companies have both been listed multiple times in recent years. We pride ourselves on the distinct honor of being the #1 fastest-growing company of the Eastside.
We take customer service very seriously here at Conversion Logix, and we know that we could not be receiving this honor without our current customers. So if you are a loyal customer reading this, all of us at Conversion Logix want to thank you for your business and let you know that we are as dedicated as ever to your marketing campaigns.
If you have any questions about this article or if you wanted to inquire about starting your very own marketing campaign, please click here
About Conversion Logix
Conversion Logix was founded in 2010 by Jeff Jobe and Dave Pavlu as a digital marketing and technology company focused on delivering digital media for the residential, senior living and hospitality industries. The combination of an effective direct-marketing lead-generation approach with a five-star hospitality style of service has enabled Conversion Logix to double its sales volume virtually every year and become one of the fastest-growing private companies in the nation, as recognized by Inc. magazine.
Editor's Note:
Conversion Logix and recently acquired AdsUpNow have also been featured on the INC. 5000 Fastest-Growing Private Companies in America list a combined total of 7 times in 4 years.
Schedule a Call