How We Rated 2023's Multifamily Marketing Trends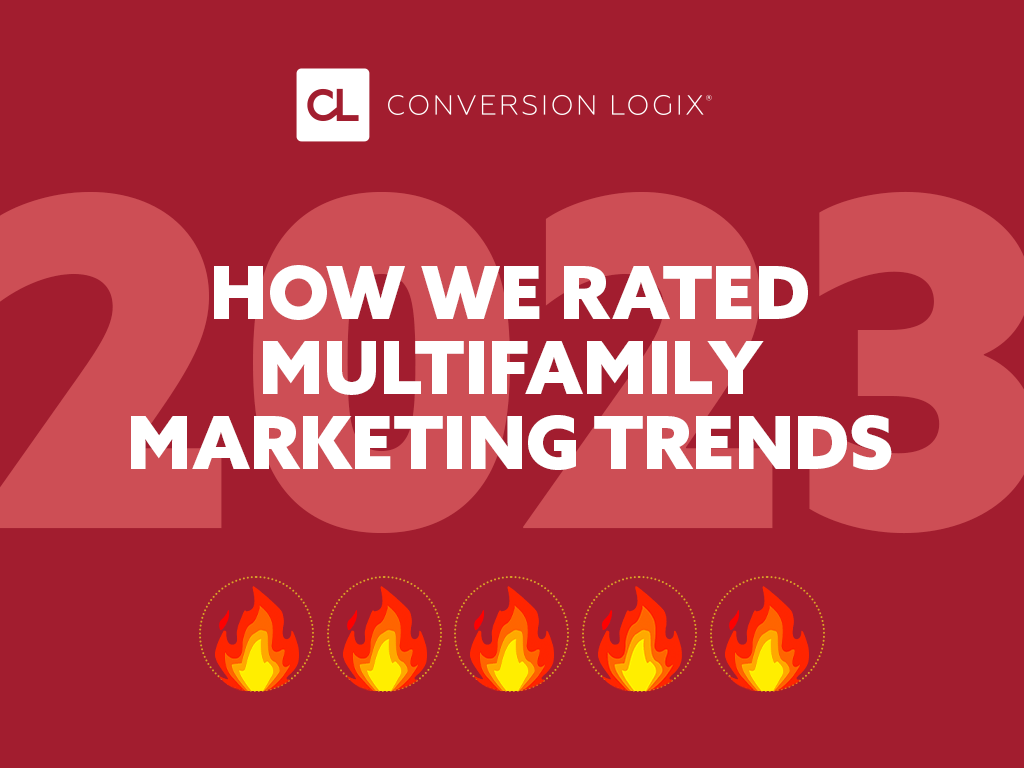 Ready to be the most informed multifamily marketer in the room? Read our hot takes as we rate our level of excitement over this year's industry trends.
Artificial Intelligence🔥🔥🔥
Chat GPT is one of the hottest topics technology topics this year. The platform has garnered millions of users overnight and is changed the way all industries are looking at AI. If you have used the platform, it is impressive in its ability to adapt its speaking style and information to a user query, going beyond what we are used to seeing from Google search. While moving faster than ever, we still have a ways to go before AI is super effective in the apartment marketing space. 
We have seen platforms like Google and Meta use AI for years to target online users, place bids on behalf of advertisers, and optimize campaigns. However, we are still seeing the need for human oversight of AI and human intervention when new information is presented.
What you need to know:
Chat GPT is making AI a more high-profile initiative for tech companies.
AI is rapidly improving and becoming more helpful but still requires human intervention to course correct and provide timely information.
Short-Form Video🔥​​🔥🔥​​🔥🔥
New research from HubSpot reveals short-form video to be the most popular trend among marketers, with 90% of marketers planning to increase or maintain their investment in the content format in 2023.
The popularity of TikTok played a large role in the growth of short-term video consumption and still continues to offer a big opportunity for marketers in the years to come.
New in 2023, is the growth in short-form video outside of TikTok. YouTube, owned by Google's parent company, Alphabet, reported a huge rise in the adoption of YouTube Shorts. In a recent earnings call, the CEO of Alphabet announced that YouTube Shorts has surpassed 50 billion daily views, up from 30 billion one year ago. The company also announced ad funding for creators developing YouTube Shorts on the platform at the start of the year. 
What you need to know:
Test TikTok if you want to scale brand awareness in 2023. Apartment brands, particularly properties geared towards college students, are seeing impressive brand reach statistics and search engine traffic gains from TikTok Ads.
YouTube Shorts is gaining massive popularity and will provide ad revenue to creators in 2023.
Local Search Marketing 🔥🔥🔥🔥
Google Business Profile is still the most common way for renters to discover you in the search engine, making this a continual focus for property marketers. In addition to updating your profile regularly and filling in all the fields you are allotted, what else are multifamily marketers doing to dominate local search results? Focusing on the basics of authority-building SEO strategies that support all aspects of search engine marketing and making strategic investments in Google Ads. While it's certainly not a new strategy for 2023, it's a foundational strategy that comes up every year and supports your overall marketing efforts. 
What you need to know:
Google Profile losing optimization is crucial to your local search strategy.
Communities investing in awareness campaigns like social advertising should maintain a strong local search presence so prospective renters can find them in the search engine when they come back to search for the brand.
Floorplan Specific Ad Campaigns 🔥​​🔥🔥🔥
We're seeing communities shift from focusing solely on brand campaigns and overall community attributes to developing segmented and targeted strategies around promoting specific floorplans. With ad automation in the mix, this is now happening in real time. Another way marketers are doing new things with this strategy is virtual tour video content by floorplan and incorporating that in ad campaigns and linking ads to special floorplan offers that appear on the site. 
What you need to know:
Floorplan marketing is more agile than ever with ad automation.
Communities are creating more floorplan-specific videos and incorporating them in ads and follow-up links in emails.
Influencer Marketing 🔥🔥
Influencer marketing, while popular in many B2C industries, has always been seen as hit or miss for the multifamily industry. We're seeing a shift in focus from influencer marketing to UGC across all industries. While influencer marketing isn't a top strategy we recommend, developing UGC content for video ads is something we are curious to explore with clients in 2023. We know prospective residents value authenticity, trust, and social proof in marketing. We just don't see influencers as essential as a distribution channel. If you want to tap into the video creation side of outsourcing social media, we suggest looking for everyday people who can help you create new content while retaining control of the distribution through your own brand's advertising channels.
What you need to know:
Influencer marketing in multifamily is overrated.
User-generated content that you can distribute across your own brand campaigns is trending.
Connected TV🔥🔥🔥
Connected TV is a trend that all advertisers have been sleeping on. While traditional TV advertising has historically received a bad rap for being too expensive and vague in the way it targets and reports viewers, Connected TV advertising breaks these assumptions. These ad campaigns work more like Display ad campaigns than traditional TV and can enable you to target based on actual behavior and intent to rent. This channel tracks post-visits from people who saw an ad and then later searched and expands multifamily marketing beyond mobile, and provides cross-device opportunities to scale awareness. 
What you need to know:
Young adults are streaming TV in addition to social media video consumption, and Connected TV advertising offers a path to reach them at scale.
Increasing spend on Connected TV advertising has proven to have a significant impact on overall campaign performance.
Website Analytics Evolves 🔥​​🔥🔥
All Google Analytics users will be forced to make the shift to Google Analytics 4 this year. With this new shift, we'll see an increasing reliance on engagement metrics that look past bounce rate to judge the level of intent prospects have on your website. The new platform promises to deliver more mobile-focused website analytics and improves cross-device and platform tracking capabilities. They've also made new additions to multitouch attribution, filling in gaps with machine learning.
What You Need to Know:
Website analytics will be more engagement-focused in 2023.
Multitouch attribution is becoming a bigger topic as marketers seek to understand the impact of social media and video ad investments.
Did you like this article? Don't miss future posts like this one. Subscribe to our newsletter to stay up to date on all things multifamily marketing.
Schedule a Call