Know Your Audience: Multi-Family Housing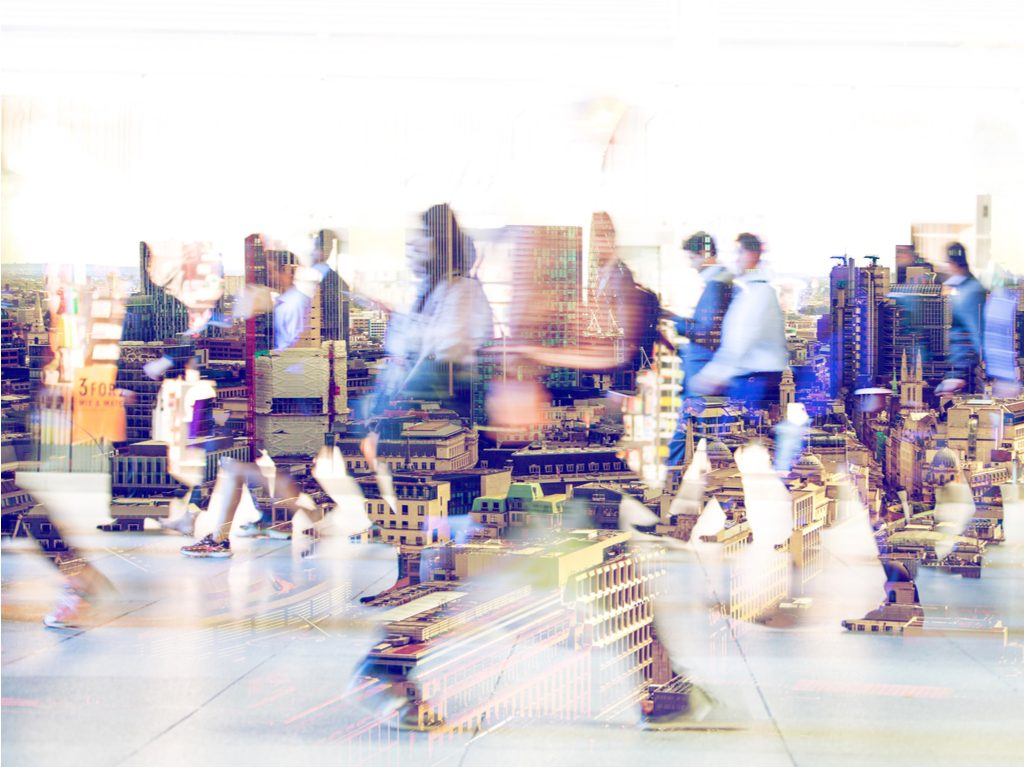 Every experienced builder knows that the foundation they lay is critical to the structural integrity of a building. When developing a marketing strategy, your growth and success relies on building up foundational knowledge of who your audience is. Approaches to understanding your audience can range anywhere from intuitive to statistician level complex. This article contains five strategies to help you build a rock-solid understanding of who your target audience is.
1. Evaluate Your Community
Knowing where your community fits in the marketplace is critical to defining your audience as opposed to an audience. Location is one of the most important factors that prospects care about, however, it's not the only thing. The interior decorating, the type of amenities, the parking situation, the types of floor plans, the amount of storage available, the security measures are all aspects of a community that signal whether or not you are a right fit for the consumer.
Different customers care about different things. Find the customers who care about the things you have to offer. Communities often fall into the trap of thinking that good marketing can help them attract their vision of an ideal renter and that a winning sales strategy will convince prospects that this is the right community for them. The "ideal" renter for your community is the one that doesn't need much convincing. Be authentic about your community and you will start to understand your audience on a deeper level. As soon as you understand who you are, you will be in a better position to identify and speak to your identified target market, who in turn will give you the biggest return on your marketing investment.
2. Get to Know Your Renters
Hopefully, your community has been housing information about renters in an organized and easily accessible database. If not, there is no time like the present! You likely have information about a renter's age, gender, family size, marital status, occupation, income, credit, and vehicle ownership. This information can be used to develop an understanding of the most common demographic trends related directly to your community.
Psychographic data is often overlooked and it can be rather useful when designing a digital marketing campaign. Consider surveying renters about the leisure activities and amenities that they are currently taking advantage of. Two questions that can give you insight into your target audience: why are tenants choosing your community and what prompted them to start the moving process.
To obtain this information, you can easily design short surveys using software like Google Forms. Responses can be viewed real time in a visual format that can also be exported into a more in-depth spreadsheet. You can send your current renters this type of survey via email or have new tenants fill out a short questionnaire at the end of their registration process.
Finally, you should factor in the net value renters attribute to your community. While segments of your current rental base may be costly or time-consuming to acquire, targeting a prospect similar to your current renters may bring you a greater return on investment.
3. Look at Current Market Trends
Whether you know exactly who your renters are or you are seeking a new marketing strategy to attract different tenants, you need to ensure that you are keeping up with current industry trends. You will want to study your competitors, local & national apartments trends, new advertising techniques, and other key components to figure out the exact construction of your target audience.
Current migration trends are a great resource to keep in mind for your marketing efforts. If your community is located in a major city, you may have a large number of new residents relocating from out of state. A reason renters might move from state to state is for new career opportunities. Linkedin has created a set of free reports for major U.S. cities that show the most common migration patterns. If you identify a large consumer base moving from one location to another, they could become an emerging rental market to target.
The types of prospects populating the rental market today may not be the types of prospects walking through your doors tomorrow. This is why it is important to look at current industry reports, to ensure that you are always up to date with your target audience. A report from the National Multifamily Housing Council and the National Apartment Association details the potential rental landscape and how it will look by 2030. Using a variety of economic and population data, this report breaks down the demographic shifts in the multi-family housing industry. The report also includes the demographic changes and housing demand projections for 50 metropolitan areas in the U.S and can be invaluable in the efforts of identifying your target audience.
4. Explore Popular Segments in the Multi-Family Housing Industry
Segmentation allows you to take the data, trends and industry knowledge you gather and use it to group the rental market in a way that can inform your marketing strategy. In order to perform segmentation analysis, you'll need quite a bit of data. While customizing a segmentation analysis to your local market is very useful, it may not be an undertaking your community is willing, or able to do at this time. There are multiple organizations that have performed this type of research and there are also free tools that you can use to get an idea of the type of segments that exist both on a local and national level.
MPF Research studied the most popular segments in the multi-family housing industry and their research takes into account the relative size of specific renter segments, along with their lifetime value to a community. For a full description of these segments take a look at the findings of the study here.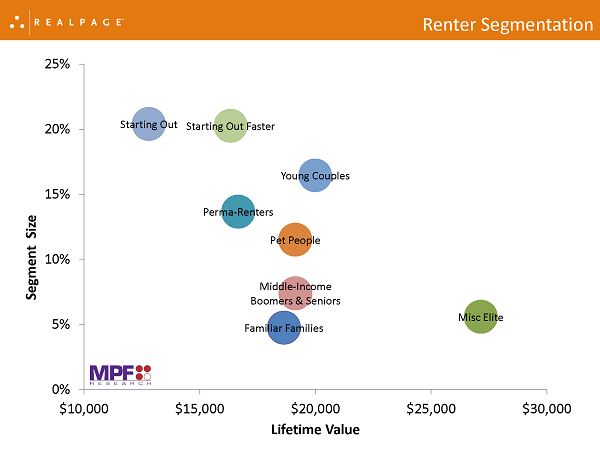 Source: National Multifamily Housing Council
ESRI (a company that builds geographic data analytics software) developed a tool you can use to get demographic and lifestyle segments located within a certain zip code. It also shows the relative size of the area's predominate segments. If the major demographic and lifestyle segments seem congruent with a major renter segment, you may want to consider targeting people who match those characteristics.
For another take on segmentation of the rental market check out the segments Yardi Matrix (a multi-family housing market information resource) created.
5. Get to Know Your Prospects
By now you might have some general ideas as to what your target audience should look like. The more information you can get about the behaviors and beliefs of your desired audience, the stronger your marketing campaigns will be. At this stage, you may want to consider doing your own market research or purchasing relevant studies that give you further insight into the behaviors, media patterns and interests of your ideal renters.
Survey Monkey is a popular choice for companies looking to do their own primary research on a potential customer base. Unlike surveying your current rental market, where you can send surveys via email or make them a part of your rental application process, potential customers will be harder to gather information from. With a platform like Survey Monkey, you can pay to get your survey questions answered by your ideal customer base.
Some questions you may want to answer:
Where do your target prospects go to learn about apartments?
What does your target prospects' ideal community look like?
What amenities, floor plans, design style, and neighborhoods do they prefer?
What do your target prospects think about your community?
What do your target prospects think about your competition?
Do You Have Any Questions About Any of This Content?
Contact a dedicated Conversion Logix representative at (866) 297 4914 or email info@conversionlogix.com for more details!
Schedule a Call