How to Market Student Housing in 2023: Q&A With Industry Experts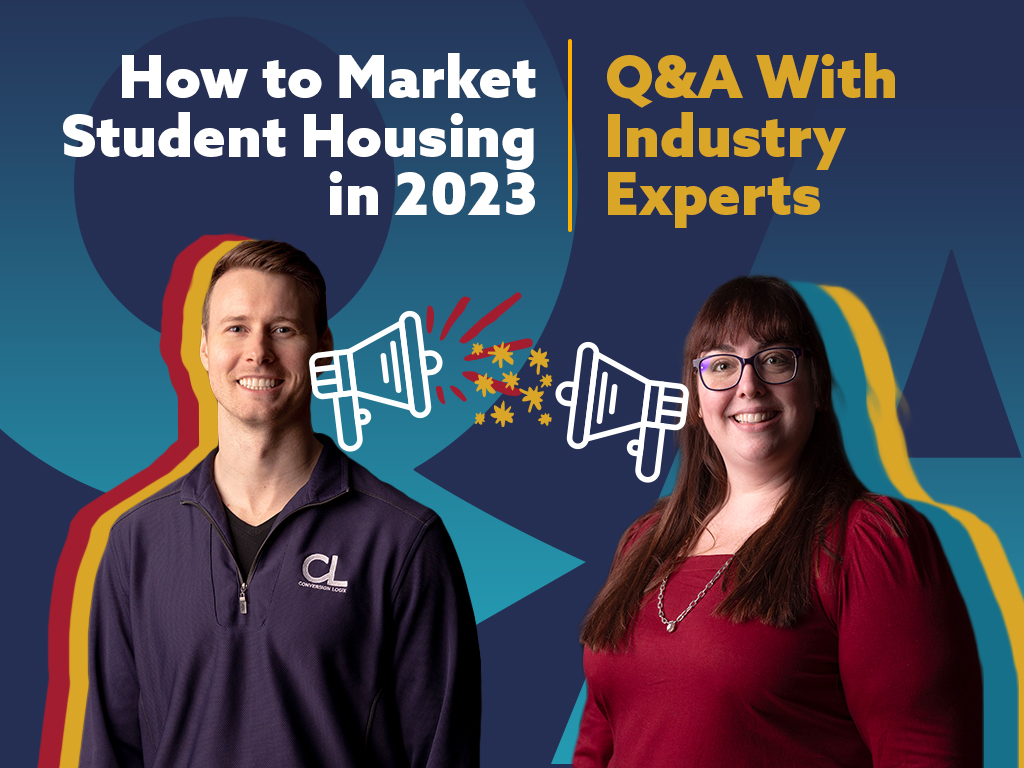 During our webinar with Student Housing Business, "You Have Eight Seconds: How to Market Student Housing in 2023," we received insightful questions from the audience about ad targeting, TikTok, chat services, and marketing attribution. (If you haven't had a chance to watch that webinar, click here to watch the recording.)
In this blog, two of our speakers, Kat Callender, Conversion Logix's resident student housing marketing expert, and Andrew Cederlind, our President and COO, answered all of your pressing student housing marketing questions. Let's dive into the Q&A to discover their tips and strategies.
Digital Advertising
Question: What is the best practice for creating video content for TikTok?
Andrew: Take high-quality photos and videos and then use an agency that can turn that into an engaging ad that speaks to your community. Keep it simple, and don't try to overcomplicate it with influencers.
Question: Our off-campus student housing is trying to do paid ads through Facebook/Instagram. We want to capture the audience in our area, but Facebook/Instagram rejects us when doing so, and it wants us to promote to the entire United States. Do you have any insight on paid ads and how we can target our area?
Andrew: When you properly categorize the ads and follow ad targeting rules, you should be able to run the ads with more location targeting options. If your ads are getting rejected, it could be because you are selecting targeting options that aren't recommended or allowed. I recommend working with an agency that specializes in EHO and student housing paid social to ensure you are doing this correctly.
Question: What is the best way to submit an ad for targeted student population housing ads on Instagram and have it not get rejected? And, under what category?
Andrew: They should be categorized under housing ads and follow the EHO rules.
Question: How do you deal with the targeting limitations for housing ads, specifically in the special ads category on social media platforms (Instagram/Snapchat) and the limited targeting of TikTok?
Andrew: We do this in several ways. One of the primary strategies we use is to focus on targeting prospects with intent to purchase or an interest in student housing. We use a variety of interest and behavior targeting strategies to do this. TikTok is great for this because it is more granular than most other forms of advertising and has a large college-aged audience. In addition to interests, we get strategic with location targeting, and with the platforms and placements we choose to advertise on. We run ads on TikTok and Instagram Stories when we want to be discovered by students and Facebook to make sure our ads also reach their parents.
Question: How much do you use GeoFencing to capture who has been at your property? Is it worthwhile?
Kat: During the height of the pandemic, we didn't use it much as it was harder to pinpoint prime locations for its use, and most touring was virtual. Now that schools are fully back in class and on campus, the school's location can be a great choice for geofencing to capture students looking to move off campus for the first time or to encourage previous off-campus dwellers to visit your property. We've been adding Precision Mobile Targeting Plus more frequently to properties we work with.
Prospect Communication
Question: What do you recommend for our on-site leasing teams to implement to be authentic in replying to Messenger inquiries, texting, phone calls, and emails? We have leasing team members responding to Messenger messages by asking them to call the leasing office when they reached out by digital text/form. A lost opportunity to reach people on the platform they started the convo. What do you recommend for better conversations with students who have reached out primarily via text/forms?
Kat: I recommend having someone dedicated to SMS conversations. Part of what makes live chat so attractive is the quickness of response. They do not want to be told to call the leasing office. Gen Z has grown up entirely in the digital/social age and spent most of their high school and early college life on Zoom due to Covid, this is how they feel comfortable. Being able to accommodate this is critical to winning their buy-in.
Question: Is there a live chat that you recommend? I've tried out a few that seem more geared towards multi-family instead of student housing.
Andrew: We have a 24/7 managed live chat service that performs well with a 75% chat-to-lead conversion ratio. It also includes real-time translation into 40+ languages which is great for international students.
Marketing Attribution
Question: How do you attribute leads to digital advertising?
Kat: Through MatchBack reporting with The Conversion Cloud® and Live Chat, we were able to cross-reference leases in a year vs. the leads that engaged with the applications on the client's website. This resulted in an 11% to 22% conversion rate per property.
Question: Can the panelist share something they did (TikTok, ad, etc.) that had a measurable ROI?
Kat: We designed a video ad for a student housing property showcasing imagery of their apartment interiors and copy about the types of apartments they have available. These were their results over four months:
1,176,434 ad impressions
14,718 watched the video 100%
1,870 ad clicks
13 leases attributed at this time
This is how we were able to identify the ad's impact on leasing:
We identified a lift in organic website traffic correlated with the ad campaign.
We launched our lead generation application, The Conversion Cloud®, on the client's website. This allowed the team to collect the names, emails, and phone numbers of students who scheduled a tour or signed up to join the waitlist.
In our Conversion Cloud® platform, we have attribution reporting that lets you see if they clicked an ad or searched organically to get to the website before converting. We were able to upload a resident list for this community and identify matches between the lead list and the leases through MatchBack, our lease attribution feature.
Question: What is a typical/average new tenant acquisition cost in the student housing industry, as far as marketing/advertising cost per new tenant who signs a lease? $300 to $500 per new tenant?
Kat: Based on the MatchBack report we ran vs. the monthly cost of a search engine marketing (SEM) campaign, the spend per lease hovered between $78 and $135. You can get away with slimmer budgets on student campaigns if you target effectively and make quarterly optimizations to adjust to the constantly changing audience, which includes parents and students.
Wait! There's More…
If you benefitted from Kat and Andrew's student housing marketing expertise, you'll want to watch the recording of their previous LinkedIn Live event, "TikTok Ads For Student Housing Q&A".
Want more tips about communicating with Gen Z? Check out How to Get Gen Z Renters to Talk to You.
Interested in learning more about our student housing marketing services? Visit our Student Housing page.
About Conversion Logix
Conversion Logix®, LLC provides digital marketing services, and licenses lead generation software to industry leaders in the student housing, multifamily housing, senior living, automotive, and small business markets. Conversion Logix has been ranked on the Inc. 5000 seven years in a row and listed in Austin Business Journal's Fast 50 Growing Companies. Conversion Logix is a Premier Google Partner, a Facebook Business Partner, and developed The Conversion Cloud®, a lead generation software suite designed to help businesses generate more leads, appointments, and sales.
Schedule a Call