The Ultimate Guide to Senior Living Marketing
The senior living market comes with its own interesting set of challenges and opportunities. Since COVID impacted the industry in 2020, communities have had to change their strategic approach to marketing and sales. As a digital marketing agency with over ten years of senior living marketing experience, we know what it takes to promote a community online. In this guide, we'll walk you through the marketing strategies we've used to help hundreds of senior living communities maintain their occupancy goals.
Create a Google Ads Campaign
Google keyword data reveals there are over 22,000 searches a month for "senior living communities" in the United States. Google has become an undeniable resource for families looking for senior care at all levels. If your community is brand new and just getting started with advertising, Google Ads is the best place to start. Google Ads has evolved to give advertisers powerful features that allow marketers to target senior living searchers by keyword, location, and likeliness to click on an ad or convert on a website.
Optimize Your Google Business Profile
Local searching has been on the rise over the past few years as more Google searchers utilize Google's location tracking to identify businesses near them. There are, on average, over 49,000 Google searches a month for "senior living near me". As you can see from the Google Ads keyword data below, monthly searches for local senior living options have increased dramatically from 2017 to 2021.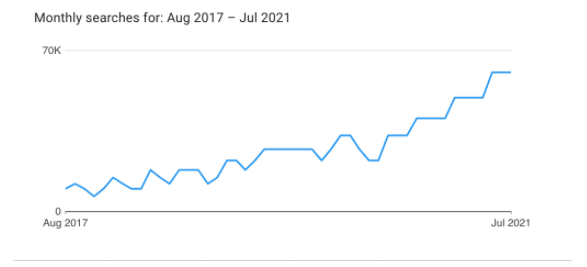 One of the best ways to capture this local search traffic is through a Google Business Profile (GBP), a free tool businesses can use to build up an online presence in Google.
GBP listings are prioritized when Google users search for location-based searches, particularly on mobile devices. The listing presents your community's name, location, imagery, and reviews.
Many communities miss opportunities to stand out in GBP listings. To get the most out of your profile, you'll want to do the following:
Upload imagery and a video
Post offers, events, and announcements weekly using GBP Posts
Link a self-scheduling tour option, and make sure you maintain up-to-date hours and contact information.
Promote Your Community with Facebook Ads
50% of U.S. adults 65 and older and 73% of adults ages 50-64 use Facebook (Pew Research). Facebook is one of the best places to promote a senior living community to both seniors and their adult children. While this platform is a great place to reach adults looking for senior care, posting to a Facebook page on a daily basis isn't the best way to maximize your community's reach. The average organic post on Facebook reaches only 5.2% of page followers in 2021 and yields a 0.25% engagement rate (Hootsuite). For this reason, Facebook Ads have become the best way to reach the prospects in-market for senior care.
Retarget Website Visitors with Display Ads
Because the buying cycle for senior living can vary, it's a good idea for communities to incorporate a retargeting strategy. This allows you to remarket to prospects who searched for their community early in the buying cycle. One of the most cost-effective ways to do this is through display advertising. Display ads present banner ads to your target audience as they spend time on online publications like news sites and blogs. Retargeted display ads target prospects who visited your community's website and present them with a banner designed to encourage them to come back to your community's site and take the next step in the customer journey.
Target Senior Living Searchers with YouTube Video Ads
83% of 50 – 64-year-olds and 49% of 65+ adults watch YouTube (Pew Research), making it the second-best social media platform to promote your senior living community. One of the things that makes YouTube such a powerful ad platform is the fact that it is owned by Google. This allows advertisers to target Google searchers in the YouTube platform, making it possible for your community to promote video ads to a very specific audience with high purchase intent.
Build Brand Awareness with Connected TV
Another way to maximize your community's reach across digital video platforms is connected TV advertising. Video ads on YouTube that are longer than 6 seconds are skippable by viewers on the platform. Connected TV, on the other hand, presents non-skippable video ads to viewers watching TV shows and movies across a huge range of online media channels. According to eMarketer, 51.5% of boomers in 2018 streamed or downloaded digital video content, and 47% of those ages 55 to 64 had a video subscription service in their household. The widespread use of video streaming among the boomer population makes connected TV ads a great channel to build brand awareness in senior communities.
Conclusion
We hope you found this guide helpful in creating a marketing plan for your senior living community. If you need further assistance in implementing digital advertising or adding lead generation technology to your website, schedule a call with a Conversion Logix senior living marketing specialist.
Schedule a Call