Seasonal Marketing Strategies for Student Housing to Stay Ahead of the Competition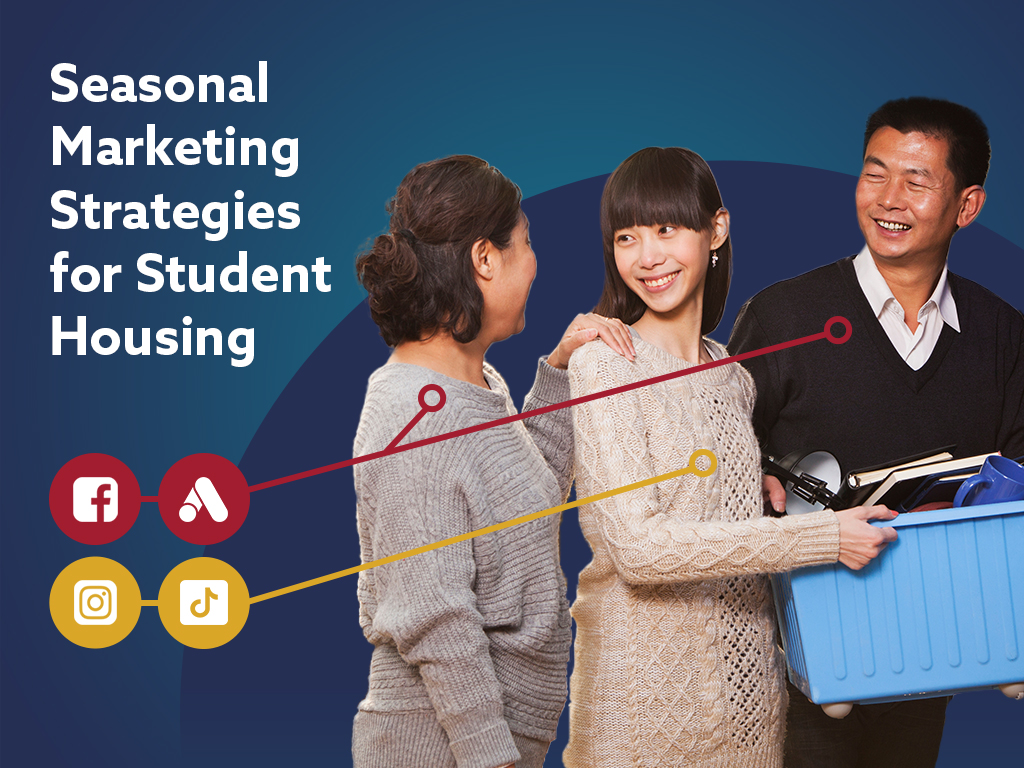 Making a housing decision for college can be an exciting and sometimes stressful experience for college students and their families. While each purchasing journey is unique, the process typically involves these recurring buyer personas.
Student Buyer Personas vs. Parent Buyer Persona
Solo-Student Buyer: This segment of the student housing audience is made up of independent students who play a central role in the research and decision-making process. These students are often the ones funding their housing experience and are more likely to be proactive.
Co-Decision Makers: This segment is students who are co-decision-making with their parents. The parents are just as important to convince in the selling process as the student and are likely to search for housing earlier and be more proactive than the student.
How They Differ: While students making purchase decisions on their own exhibit similar buying behavior to students who are making a decision with their parents, the way parents shop in the buying process differs a lot more. The generational differences play a role in the way these two audiences shop online as well as what they are looking for from the housing experience.
In this blog post, we will share our expertise in developing advertising strategies that effectively reach both students and parents in the student housing buying process.
Budget Allocation
We find that parents search earlier in the purchase journey between the months of November and March as opposed to most Gen Z college students, who are more likely to look around the spring and summer months. Knowing this, you can plan your marketing strategy and budget accordingly. 
More often than not, marketers have to work within the budget they have and reallocate instead of increasing spend. If this situation sounds familiar, you can get the most out of your marketing investment by knowing when parents and students are searching and how best to reach them. With these insights, you can change your marketing mix throughout the year to maximize your reach and ensure you are meeting all the buyers while staying on budget.
Understanding Gen Z College Students
When it comes to marketing to the latest generation of college students, here's what we know about their buying behavior and how it affects the way they shop for housing.
Gen Z turns to social media vs. traditional search engines like Google when they are making purchase decisions.
Gen Z expects immediate communication from brands and will drop out of the purchase journey if they have to wait.
Gen Z is more likely to text than email.
Our Recommended Marketing Strategies for Reaching Students
Short-Form Video
The best way to drive massive brand awareness even through advertising is TikTok, followed by Instagram Stories and YouTube. Once those bases are covered, we encourage clients to expand into connected TV ads leveraging the assets they have from other campaigns.
With Gen Z, short, fast-paced video content on the platforms they spend the most time on is the best way to build awareness.
Social media influences their purchase behavior, and we see this when looking at website data. A lot of organic search activity is driven by students seeing a community name on social, through Display ads, or somewhere else, and then they type the name into Google and click on an organic listing.
SEO
This leads us to another area we think student housing communities should focus on, SEO. Gen Z doesn't always click on ads to get places, they are more likely to be subliminally influenced and then seek it out later. Making sure your community is visible when they do search for it online is important to get the most out of your brand strategies. Once you drive the demand, you need to be discoverable so you can capture it.
As important as the process above is, driving website traffic isn't your only job when it comes to building a Gen Z marketing strategy. Delivering real-time information to this audience once they start asking questions is critical.
Live Chat & Automation
We've found that Live Chat, SMS opt-ins, gating virtual tours with automation, and providing real-time tour scheduling for in-person tours help our clients convert anonymous website traffic into leads they can follow up with and nurture.
Proactive Lead Generation
Another critical part of this strategy is building a waitlist. Considering how the student housing industry typically leases, you may have students looking months out for future accommodations. Creating a call to action for this on your site and automating the creation of an interest list is key to pre-leasing way ahead of the next semester.
Understanding Parents of Gen Z College Students
Unlike Gen Z, their parents are more likely to see ads on Facebook or Instagram than TikTok.
This audience searches for student housing at a different time of year than Gen Z.
When they search, they start with Google, as opposed to a social search engine, and will click on ads in the results to find the information they are looking for.
Our Recommended Marketing Strategy for Reaching Parents
The parents of today's college students are primarily Gen X and turn to different platforms for information and entertainment online.
Facebook and Instagram
Facebook and Instagram video feed ads are an effective strategy for reaching the parent audience online. With its wide Gen X user base, Facebook serves as a go-to destination for parents. This audience utilizes the platform to connect with other parents, join relevant groups, and access helpful resources for their college-bound child. Instagram, with its visually appealing content, is also popular among Gen X parents, providing a glimpse into the college experience and allowing them to follow university accounts or student organizations from the student and university perspective. 
Google Search
Google Search plays a crucial role as parents turn to this search engine powerhouse to find specific information about student housing options, nearby amenities, and safety ratings. While local and brand SEO is important to optimize for and can often yield strong results, it can be challenging to appear organically for searchers looking out of state at a university. Paid Search is a valuable addition to a community with a competitive budget to stay ahead of the competition and in front of parents.
Master Student Housing Marketing
The most important thing to remember about student housing marketing is to not set and forget it. Marketing to this audience is more complex than traditional multifamily housing marketing. There are multiple buyers involved, changing timelines with shorter leases, and differences in where and how these buyers shop. Combine this with a limited budget and high leasing expectations in an increasingly competitive market, and it's obvious that today's student housing marketers have to be agile and strategic to succeed.
Want more? Become a master marketer in the student housing industry with these resources:
Are you ready to work with student housing marketing experts who can deliver qualified traffic to your community? Let's talk! Schedule a call to learn about our services and solutions.
Schedule a Call